Hey guys! I am VERY new to face painting and have been practicing like mad on anyone who's willing.
My mother is doing super hero day at work today and came over very early in the morning to have a super hero mask painted on. I was planning on giving her matching wrist bands (very super womanish). I was really excited to paint her since she tends to shy away from such things.
When I started though I had a rough time getting the paint to fill the wrinkles. I feel so bad even typing that. Jeesh. My line work was absolutely dreadful. I felt like crying because I wanted her to look amazing for her first painting. I took so long with the mask I didn't have time to give her wrist bands. I felt like I failed.
Is there any techniques or tips you can give me to help with vintage skin? Some of her friends at work have mentioned having their faces painted for Halloween but after seeing her mask they might not want it! I understand how a child's face is easier to paint on and I do have a look more practice to look forward to....but the line work on vintage skin scares the snot outta me. I want everyone to be happy with their designs, no matter the age.

Thanks!

str8shuder




Number of posts

: 5


Age

: 32


Location

: Moore, Oklahoma


Registration date :

2010-09-15



On another board, I read that using a Mop is a great way to get the base into the wrinkles...

MichelleLA




Number of posts

: 418


Location

: Southern California


Registration date :

2010-05-16



I like the idea of using a mop to get the base down, but I understand that the lines would be difficult. I think I would just gently pull the skin, not stretching, it, but helping it to lie flat. I do it all the time when I apply black eyeliner. I guess the skin around my eyes is getting quite 'vintage.'
lol!

One thing that helps is to suggest a monster, witch or animal design in lieu of the designs that are meant to be solid like a mask or butterfly.

This way the wrinkles bring out the effect of the design rather than work against it. Many of the older ladies are hoping for this to make them young again and it actually makes them look older as the make-up dries out.

If you can get them to go for something that works with the wrinkles, they and you will me much more pleased.

I might suggest you have them heavily moisturize with a water-based moisturizer before hand as well.

BOL,
Metina

_________________
Face Paint Forum Shop
www.FacePaintForumShop.com
TAG, Diamond FX, Wolfe, Global, Kryvaline, Paradise and other Face Painting Supplies
Shipping from $3.99
Washington DC Metro--But Serving the World!
Creme makeups will work better than the normal water based facepaints too. Have them moisturize a bit first, then use a creme foundation. Have them super relaxe or even open their mouth, tilt the head back a bit and raise the eye brows when doing around the eyes. This strethces everything out around the crows feet. Have the close their eyes and relax the face when doing above the brows. Pull the skin taught when painting a larger area to fill in the creases. Make sure you powder as you go, or you can end up with a messy diaster.

Also, on the older ladies, a little glitter goes a long way to give them a youthful sparkle. Old theatre trick, put a white dot at the outside corner of each eye, creates the illusion of a youthful sparkle AND draws the eyes away from the little lines. Preperation H will make the small lines vanish for a few hours (Yep- really) again... not something for the average customer, just some old makeup artist tricks.

Liquid latex with cosmetic glitter also works well on older ladies provided they have not started becoming harsoothe.

They actually make special clown white for older, more wrinkly clowns- This stuff is like peanut butter and glue.... fills in all the wrinkles and no cracks! But definitely not something to use on the average person. MESSY!
On older skin, try not to do lines under the eyes(I'm getting a little vintage here & it's getting harder to paint). I move the skin around a bit to tighten it as I sponge. You can press pretty hard without hurting(within reason). This will push the sponge & paint into the creases. Avoid metallics, they'll age you. Doing a lit of dots & babies breath gives a youthful, pretty look without the "skipping" lines. If you need to do a line, slow down your brush stroke/ tear drop & be more intentional(not flicking it at the end). I have to do this for myself or the brush will skip. Makes me kindof wish I'd started face painting 20 yrs ago when I had younger skin

1st up i LOVE the term vintage skin!!! i have the same problem around my eyes, dunno about bags, man, i have the full set of luggage!
I just got an inquiry for a 50 year old birthday (for THIS Sat!), and the client herself calls her 50 guests "old geezers," lol. Any other tips for vintage skin? Her party theme is Paris @ the turn of the last century...so I'm thinking lots of eye designs and jewelry. Might have to get my mom to let me practice, as she's in the same age category

I got to paint an 80 year old granny. She was meeting up with her sons for lunch & wanted to shock the socks off of them. I guess they were mad that she'd just gotten a ladybug tattoo, so she was going to give them a reminder w/ her face painting. I figure at that age you should be able to do what you want & tell your kids tough!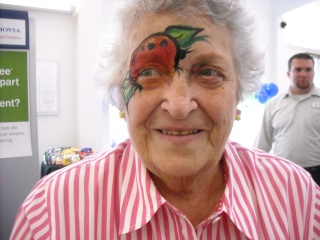 Similar topics
---
Permissions in this forum:
You
cannot
reply to topics in this forum