This is from illusionsart's website:
http://www.illusionsfaceandbodyart.com/apps/photos/photo?photoid=19463047

Is the base green a powder? I haven't used any powders yet. What do you recommend?

That green looks a lot like Starblend Powders.
You don't have to have the powders to do this look.
Those eyes would look good w/ any light green & paradise teal would rock it out.
I'm just wondering if I should invest in some powders.
Lisa Joy Young has a youtube video using StarBlend powders. It might give you a better idea if it's a product you want to use:
https://www.youtube.com/user/lisajoyyoung#p/u/16/lvITEoq7ELk
looks alot like Paradise lime green
I think it could quite easily just be a waterbased face paint. Just applied thinly and blended out.
I use Starblend & Ben Nye Lumiers when the weather is too hot for face paint. I like the results I get(though not perfect). I also use them on younger kids & kids who I can just tell won't do well with wet paint.
These were done w/ Starblend:
black, white & wolfe back for the skull.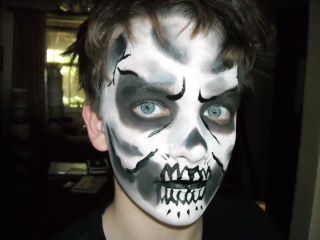 Starblend green & yellow & wolfe black for the dragon.
To be perfectly frank... it is never necessary to have anything in particular. Powders are great, but, in reality how much kit to you plan to carry around and set-up each and every time?
I have powders (of course I do, I have everything

) but I can count on one hand the number of times I have actually USED them on a paying job. And on one of those occasions they got spilled!

Some people use powders INSTEAD of the water activated cakes for bases etc. Some use pressed powders (like Starblends or eyeshadows, etc) other use loose powders. All are very effective ....
BUT NONE OF THEM ARE NECESSARY!! Any colour or design you see can be duplicated using what you have... most of the time!
I'm in downsizing mode lately... I want to cart LESS kit to my jobs. And over the years I've managed to discover that less is often more. If I don't have 9 blues I can manage with 5...and maybe even 3....
I have to admit that powders are great to use... but I don't find them much use when I am working a long queue... too fussy for me for speed work. But they are very nice for more relaxed jobs or adult parties.
BTW I have a powder cheat sheet on my resources page (link in my signature)

---
Permissions in this forum:
You
cannot
reply to topics in this forum