I'm doing some quick cheek art and such for a "Winter" party and was wondering if anyone can give me tips on how to just stipple some white for snow. I tried a pouncer and it comes out too round looking, tried a sponge, I just can't seem to get it right. Any suggestions?

TIA
My daughter has a stippling sponge, I have been meaning to get one. She uses it to make beard stubble on young pirate boys, and for blood splatter. I have read that you can use fish aquarium filter and cut it up, and that it is just the same as the stippling sponges. Here is a link to one, and they do look like the aquarium filter:

http://www.sillyfarm.com/store/index.php?p=product&id=3486&parent=0
Yup... aquarium filters. They come in white instead of black but that's no biggie. Just into small pieces.

And I use them once and toss as they are very difficult to clean as I use them with make-up to create sfx. I don't use them for face painting at all really. But no reason why not.

If you want to use to make rough stippling be sure to tear the edges of the cut pieces to eliminate the "straight" edges. Just pull with your fingers or trim off the sharp edge with a scissors.
i got my stippling sponge from a bartz party store


SuzySparkles




Number of posts

: 2778


Age

: 39


Location

: Wisconsin / Milwaukee


Registration date :

2009-11-09



I just learned a trick from Lucie Brouillard she took one of her old brushes that wasn't performing well for her any more. So she took and trimmed the bristles some and roughed it up on a rough surface like a sidewalk or step and it gave her the perfect brush for creating foam for waves and for stippling snow.

I just did the same thing with a #10 round I was gonna throw out because I thought my daughter had messed it up. Well it now has new purpose and is back in my kit.
Can you get a good pic of the brush & effect? I'd like to see it. I use the tank filter, but am not happy with the lack of control I have. That brush sounds a lot better.
I use this brush for clouds and snow, it all depends on the pressure applied.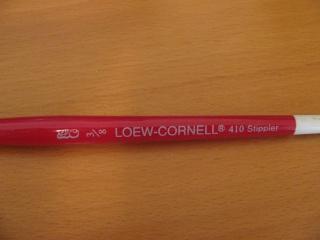 _________________
Face Paint Forum Shop
www.FacePaintForumShop.com
TAG, Diamond FX, Wolfe, Global, Kryvaline, Paradise and other Face Painting Supplies
Shipping from $3.99
Washington DC Metro--But Serving the World!
I have one of those I got w/ a packet of mixed brushes for a craft I was doing... I'll need to give it a try!
TY Metina!


Similar topics
---
Permissions in this forum:
You
cannot
reply to topics in this forum