I've got a few items that I don't use anymore. I'm tired of just storing them, and hope they'll be useful to somebody! I am wanting to sell these items, but am willing to trade for the right thing. If I didn't price something, feel free to make an offer!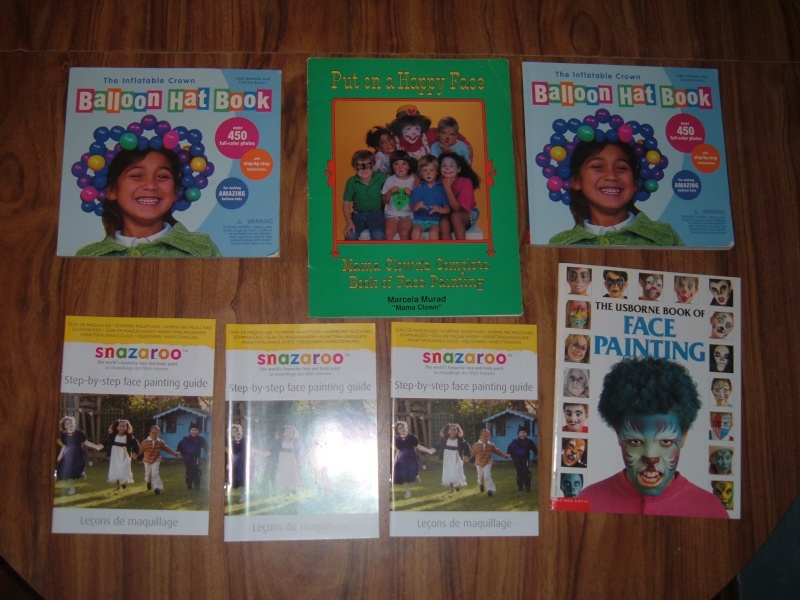 The Inflatable Balloon Hat Book
(2 copies); will sell separately. This is one of my absolute favorite twisting books, but I had 3 copies! $5 each
Put On A Happy Face
by Marcela Murad. This would be a beginner's book. $5
The Usborne Book of Face Painting
. Good for beginner's, though it has some cute faces for intermediate painters, too. $2
Three copies of the Snazaroo booklet that comes with the Michael's kits. If you buy something else from me, I'll just throw one of these in free of charge. Otherwise $1 each.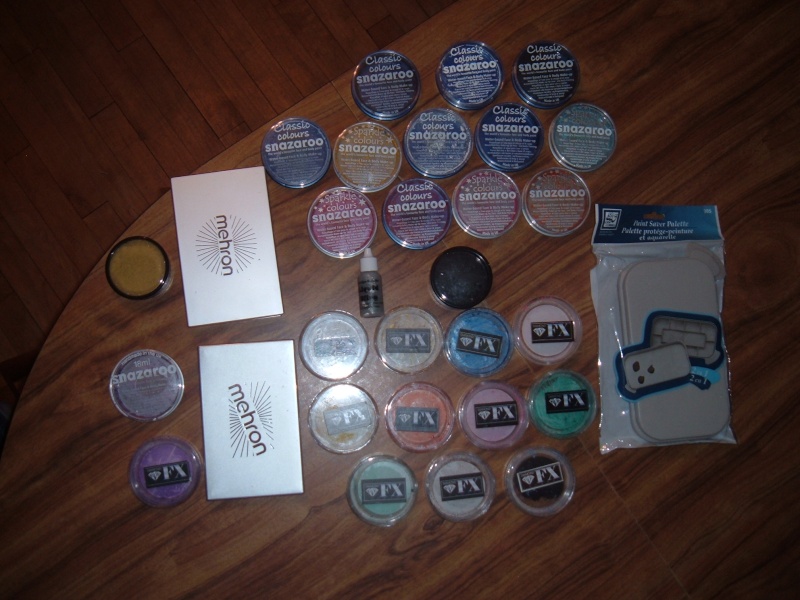 At the top are 12 empty Snazaroo 18 ml containers. They're not all cut up.
Two empty Paradise sample palettes with mirror inside.
To the left of the Paradise containers, at the top is Paradise gold. I used it once or twice.
Below the Paradise gold are two imperfect containers. The lid on the Snazaroo container has a broken edge. The DFX container is slightly scored on the bottom from cutting the cake out.
To the right of the Paradise palette there are 11 empty DFX containers. Not cut up.
In the middle is silver liquid bling (with metal tip) that I used 1-2 times. Beside that is 1 empty Paradise container.
Way over on the right is a paint saver palette that has dividers in the lid. I planned on using it for splits, but never did. $4.50

contrachapado




Number of posts

: 751


Age

: 36


Registration date :

2009-01-05



I'd love one of the balloon hat books! How much to ship to V4N 0W3?
I'd like a ballon hat book as well.

-Metina

_________________
Face Paint Forum Shop
www.FacePaintForumShop.com
TAG, Diamond FX, Wolfe, Global, Kryvaline, Paradise and other Face Painting Supplies
Shipping from $3.99
Washington DC Metro--But Serving the World!
I'd like Marcella put on a happy face and the Usborne books

and how much for the Paradise palettes?

MichelleLA




Number of posts

: 418


Location

: Southern California


Registration date :

2010-05-16



I'd be interested in the Usbourne book as well, if something should happen with Kittee. I also would like the Liquid Bling and Paradise Gold, but it doesn't say how much for that.
I'd like a balloon hat book as well if Kristal or Metina doesn't take it!
I would like the two Paradise sample palettes please email me the price with shipping to 17356
Sorry, for not posting all the prices. I'm asking $8 for each of the empty Paradise palettes.

Liquid Bling is $4.

Paradise gold is $6.

contrachapado




Number of posts

: 751


Age

: 36


Registration date :

2009-01-05



I'll just go down the list of people who responded first, and if something doesn't work out, I'll contact the next interested person.

contrachapado




Number of posts

: 751


Age

: 36


Registration date :

2009-01-05



I would LOVE to have both palettes, but would be thrilled with even one fo them, please let me know. thanks,


Similar topics
---
Permissions in this forum:
You
cannot
reply to topics in this forum