Hi everyone --
I'm pretty new to face painting and have never painted a belly -- but I have a prospective mom lined up who is interested

As a new painter I'm not very fast and don't want to get in over my head -- but want to be able to give the mom some choices and have this be a collaborative experience.
So I guess my questions would be -- what can I do to prepare myself? I do have a few photos in my inspiration file, but I need to be able to execute the design in a timely manner (not sure how long belly painting takes - but assume the mom-to-be cannot sit indefinitely

)
Can anyone suggest simple design concepts for a first belly -- for a mom who is expecting a second girl?
Photos and visuals would be appreciated!

MichelleLA




Number of posts

: 418


Location

: Southern California


Registration date :

2010-05-16



Linda (Psalmbook) painted this on me at a festival in about ten minutes. I'm sure if you set aside maybe 45 minutes, you should have time to do this design with more finished details. As I said, she only had 10 minutes to do this so it is a fairly straight forward design that would be good to start out with.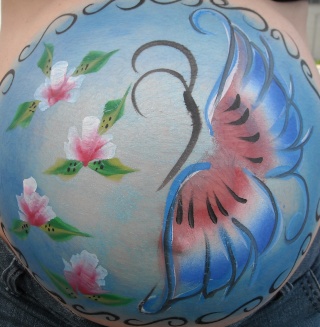 Linda I didn't think you would mind me sharing.
10 mins!!! Linda u did and awesome job!
kissing fishies in a fishbowl were my first belly painting design on someone else! always a cute and pretty easy idea! i'll post a pic as soon as i download onto my computer...and Linda, awesome 10 min design!

poizonedpeach




Number of posts

: 234


Age

: 36


Location

: Southern California


Registration date :

2010-10-15



Whitney, I've posted that several times in different threads, so it's fine.
Thanks all!

For prep:
Have healthy beverages & snacks for the mom. Have somewhere comfortable for her to sit. A recliner usually works nice if you have one. Sit on a chair that is lower than her & hopefully this will be less strain on your back.
Take frequent breaks. A belly painting can take several hours.
Draw out your design with a white eyeliner pencil or white face paint while the mom is standing. Otherwise it will look distorted when she stands up.
Let mom pic positions that are most comfortable for her & work around her needs 1st.

I like to let mom pick a design idea, draw it out on paper & present it to her. Then go from there if she approves. All my belly painting were mostly on the fly as it was when Whitney & I both had free schedules.

Take pics of the process & paint siblings if they're old enough.
Have fun!!!
Everything Linda said is right on. I range from 1.5 - 3 hours with an average of 2 hours for a belly paint. I interview the mom ahead of time and find out what her ideas are. I ask questions about what she likes and try and come up with something significant for the family. If the ideas aren't flowing already, then ask about the baby room colours/theme or a favourite character or book. I come with a basic sketch in hand and maybe some photos of key elements to incorporate for detail. Bold designs are good so it's recognizable from a distance. There are a lot of photos taken from far away and the design can look pretty small if it's a photo of the whole family. The photo below is of a mom whose nickname is sunshine. We live on the westcoast and they love the ocean. If you look at the sunset closely you can see a silhouette of the family including the couple's other child and the dog.
I use the zero gravity chair and the base of a cheap office chair with the back removed. You can adjust the height so you're low down but still supported. I start with the mom standing for the sketch and usually end with her standing too and finish the details. My moms have all been really comfortable and haven't needed more than a couple breaks. I guess I've been lucky.
It's kinda fun as you paint, baby often kicks and moves around where you're painting. I'm not sure if he can feel anything because the brush is pretty light, but there's something going on there.
Magna what a beautiful design!! Here's my first belly paint (inspired by Kristal)


poizonedpeach




Number of posts

: 234


Age

: 36


Location

: Southern California


Registration date :

2010-10-15



Thanks Linda and Magna for the great tips!!! They are so helpful to me and I'm sure other belly virgins will find them helpful too!
Anita and Whitney -- Thanks for sharing the photos of the simple designs -- they look great and seem to be attainable by someone less experienced like me.
Lizz -- it looks great -- I hope my first belly looks good enough for me to post a photo....
Please keep the simple designs and tips coming


MichelleLA




Number of posts

: 418


Location

: Southern California


Registration date :

2010-05-16



I also appreciate the tips. I will be doing my first belly painting in a few months and want to start getting some ideas. Well, as soon as she finds out (if she finds out) if she is having a boy or a girl. I have a prospect of going to work in an OB's office as a medical assistant. I think after I established myself there I might be able to find some expectant moms who would want to be painted also. I appreciate everyone on this forum so much for their input and willingness to help all of us newcomers, especially when you don't even know us.

fluttersby




Number of posts

: 361


Age

: 52


Location

: Alpena, MI


Registration date :

2010-08-09





Similar topics
---
Permissions in this forum:
You
cannot
reply to topics in this forum