I did my first belly painting tonight, and it went pretty well. It took me almost exactly an hour to paint. I ended up on my knees in front of the recliner and that seemed pretty comfortable for both of us. My only real problem was that when she stood up, the paint stretched with the skin, leaving a cracked appearance. Any suggestions on how to avoid that? (Also, if I were to do it over I would make the moon smaller and put more blue/purple around the outside.) Also, my intention was to make the linework soft and have it sort of fade into the design, but my technique sort of got cast aside halfway through, so the upper half isn't blended like the bottom. I realized this as I was painting, but didn't feel comfortable spending the time needed to wet and drag the rest of the lines. Ah well! Things to remember for next time! Thanks everyone for the help!
This is the enhanced photo that I supplied to the mother-to-be for her keepsake.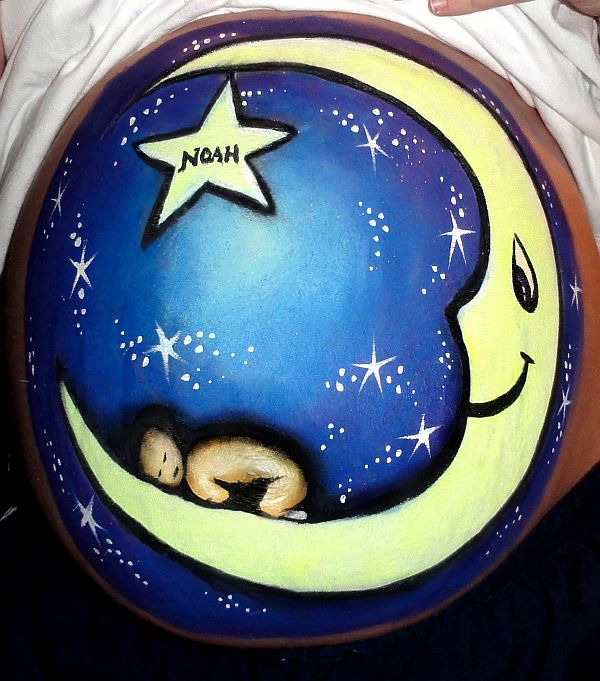 it's so cute!!...the only thing you can do to keep the drawing round (don't know about the stretching though)is have the mother stand when you draw the first lines...then have her sit and you notice theat the belly is a flat round shape now...
Beautiful Angie. The "flaws' you mentioned don't she in the pics. It's beautiful!
I think it's not bad for the first time.
It's wonderful!!!
Thanks everyone! Michelle, I sketched it standing, so the general shape was round, but the paint on the skin stretched and left cracks when she stood back up at the end. You can tell mostly on the moon's eye if you look closely. It may have been the paint I used? I had DFX for linework, which is mostly what seemed cracked.

Ah well, no matter... the mother was very pleased. I appreciate the pointers! I was very glad I'd read to have her stand for the outline, as I'd never have considered that myself.
If the layer of paint is too thick , it also cracks.
That also happened to my bellypaints sometimes.
There is not much to do about it.
I never use more than two overlapping layers of paint.
Dfx black and white seem to crack often...we can hardly see it!...well done!
Love the bold background. Gorgeous colours. Yeah, what Anita said about layers. Thin is better to prevent cracking. I use Snazaroo or Kryolan or Fantasy paint for the big areas as they have more give. Line work is the challenge though. Nothing like DFX to get those crisp lines.
Aww! I love it! What a sweet design!

poizonedpeach




Number of posts

: 234


Age

: 36


Location

: Southern California


Registration date :

2010-10-15




---
Permissions in this forum:
You
cannot
reply to topics in this forum