Hello all,
No, I have not disappeared off the face of the planet. I have simply been too busy to come on here and post(though I have been browsing whenever I get the chance).
That being said, last night I was brainstorming and came up with a quidditch design inspired by the Harry Potter books and movies(I'm a bit obsessed with them). The only problem with this design was the fact that I cannot paint human figures at all, so they looked terrible. I am also horrible at shadowing. And I had no gold, so the hoops had to be a mixture of orange, yellow, and light brown.
Here is the first attempt:
Does anybody have any suggestions on how I can properly paint Harry, Ron, and Malfoy so that they do not look so wonky? Also, any tips on shadowing?
Thanks!
Couds
are my FAVE, def make any sky scene. I did them for the illusion book and in all spooky/ sunny designs etc.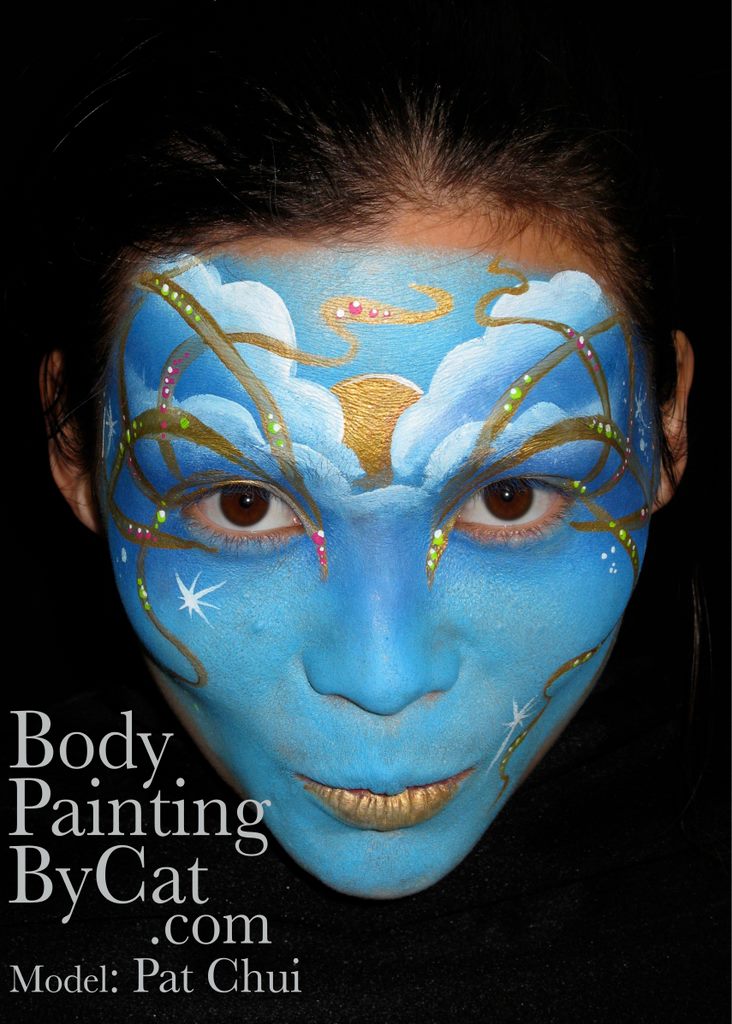 I do a white 'M' with an extra1/2 'M', if that makes sense, as in a line with 3 bulges, all diff widths/ heights. Depending on purpose, I use a strong white (like Wolfe/ dfx) for this.
I even do a 'cloud fairy' as 1 of my main quickie faces!
Then drag blend it down either with a clean/ white sponge, OR the sponge of the colour it goes over.
Do a few overlapping it (you kind of have to overlap downwards, like scales) but make sure to leave enough base colour to show the coolness of it.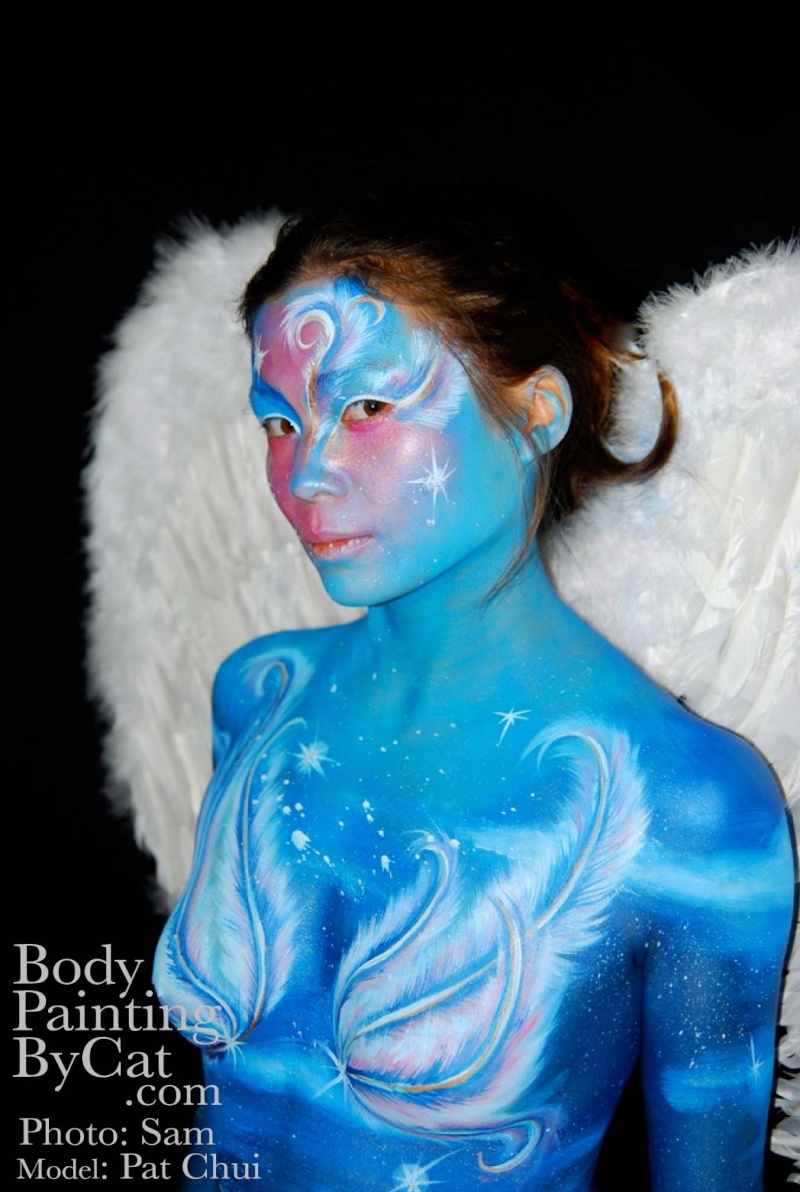 was with pearlier/ less strong whites that sort of blend into the back a bit more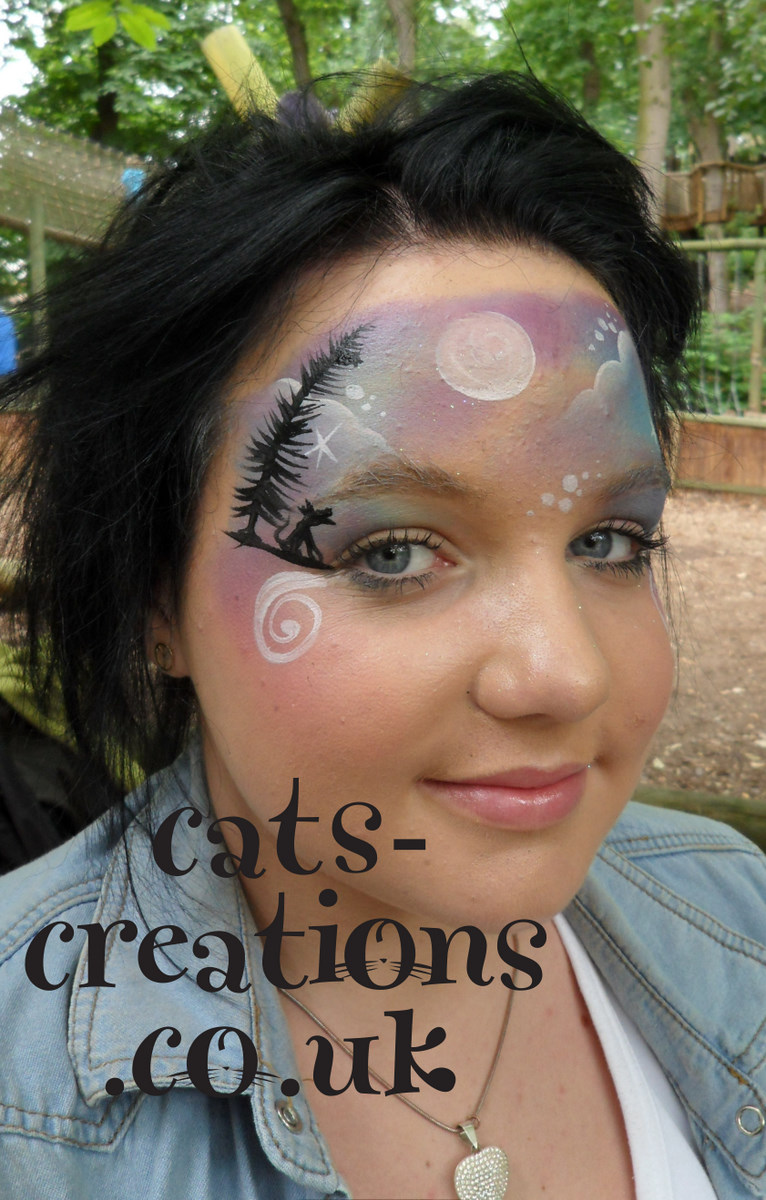 This is my 'Twighight' face - scuse the iffy wolf I keep meaning to look up a photo to copy!
Also dark clouds, in black or purple, look cool for sunset/ creepy stuff.
Never fails to get an oooo even tho it is SO simple!!!
Cat x
This has been helpful to me too Cat, thanks! I am doing a belly painting tonight and want to do some daytime clouds. Was having trouble making them look distinct and carefree at the same time!
Thank you so much. You can"t even see my clouds. I will definitely have to get a pearlier white. Which brand would you suggest?

If you can't see your clouds go more opaque, like wolfe white/ dfx, they don't 'sink' into the background.

If you want wispier see-though clouds go pearlier. I love Grimas pearl, Kryolan perl-mut (you can heardly seen them at ALL though, best to use over a pale white like snaz or paradise for a sheen). Snaz white prob pretty pale too actually, it tends to melt in... I used to use Snaz sparkle white for stuff but haven't had it for ages now, maybe that for pale ones?

Cat x
Thanks. I used all paradise for the ones above, and they turned out horribly(you can't even see them). I will have to whip out the dfx and try again.
I've been working on my people too. I will have to try the design again sometime tomorrow to see how it looks with the improved people and actually visible clouds.
Thanks for your help, Cat!

P.S., I love the twilight design!
Hmm, paradise should be fine, is it too watery or your under-paint is too wet? or too close in shade? I tend to use a darker blue in places/ purple so there's more contrast...

Cat x
I am struggling with people also! I have such a hard time making them look realistic!

Thanks for the cloud lesson CAT!!!!!

Soooo good!
pjhamel wrote:Hello all,
No, I have not disappeared off the face of the planet.

Thanks!
I know! you're on 5 minute TAG ? ! ?
I'll read the rest of your post now!

Lauri Strandell




Number of posts

: 645


Age

: 50


Registration date:

2010-12-04



---
Permissions in this forum:
You
cannot
reply to topics in this forum