I need a splitcake for leaves but I just can't decide. What is your favorite split cake for leaves?
A split with Drk green Light green and yellow
I just bought the TAG One Stroke Split Cake Snake, this one has 4 colours and it seems really good so far!

staysilly




Number of posts

: 223


Age

: 46


Location

: Israel


Registration date :

2010-11-10



i like dark green, light green and white best!
OK...I am biased;) As the creator of the first mini split cake made for face painting...I like either True Lead or Bright Leaf Arty Brush Cakes. Both make great snakes and dragons too!
ttfn,
Rebecca
www.artybrushstrokes.com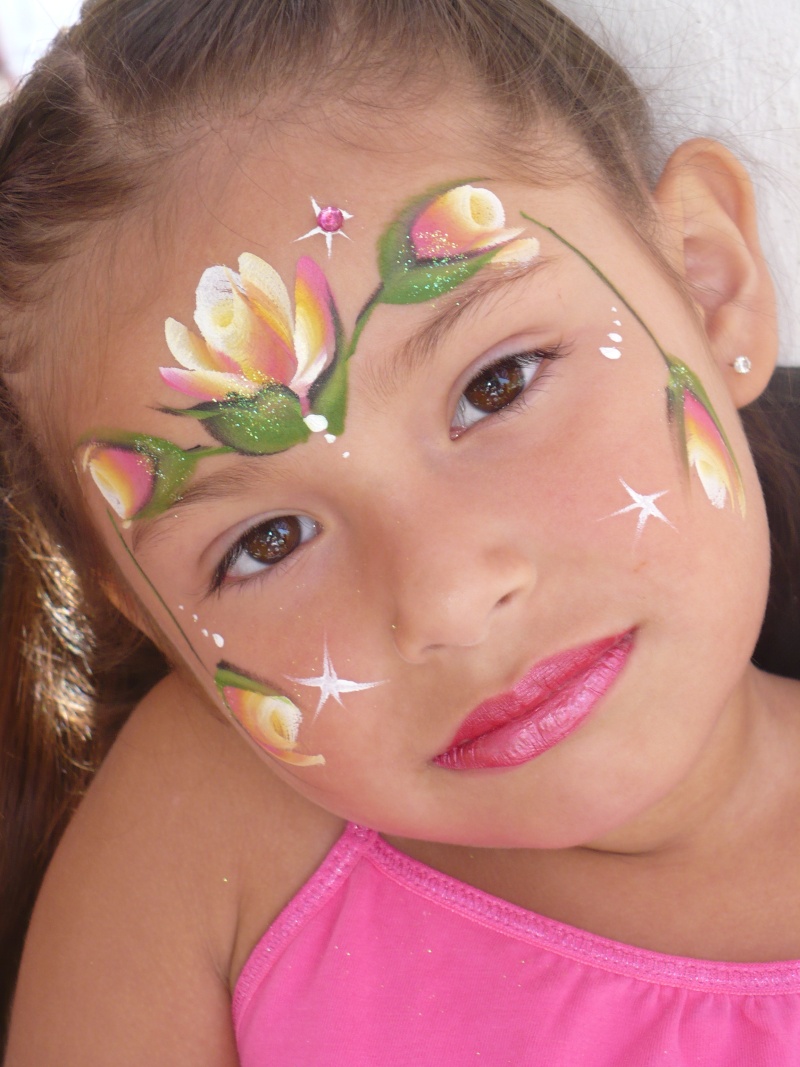 This was painted using True Leaf
I've just been using the center of the TAG Leaf White cake. It is just Light Green & Regular Green. You don't really need a specific branded split cake for that

I don't really do leaves with split cakes very often. I spend my time on the flowers with the split cakes and then just use a regular non-split cake green for the leaves. They are so much less fiddly and it saves me time and $$.
But yeah, TAG Leaf White is what I would use. Or maybe TAG Leaf Yellow depending on the other colors in the design. Also the Paradise Prisma Cake in "Fleur" is nice since you get the red/pink/white combo plus the green/white combo for the leaves in 1 cake.
~Heff
Hi Rebecca! I LOVE your arty brush cakes. I wish I could get them here in Austria/Europe. I bought a few from Silly Farm to try out and fell in love. I admit to making my own, since shipping is so darn expensive. I bought the little cases from the shop here. I've been asked where I get them and also been asked if I'd make some for other people. I haven't yet, because I'm not sure if I should. What do you think?
(By the way...I saw that you live in Seal Beach. I lived there as a teen, on 16th Street. I miss it so much sometimes.) ~ Heidi
Last edited by stackhouseh on Thu Jan 27, 2011 3:50 pm; edited 1 time in total (Reason for editing : forgot to write my name)
OMG!!!
I can't believe you lived here!!
As you know...it's only 16 streets wide!
Yeah!!
I live off of first;)
You know...if you can't get them...what are ya gonna do?

I do appreciate it when people give credit for the creation to me...even when they make their own
So...THANK YOU SO MUCH!!!
ttfn
Rebecca
www.artybrushstrokes.com
Waht cake did you use for the roses?
I use a home made split for leaves.


---
Permissions in this forum:
You
cannot
reply to topics in this forum