*So this is my first belly i did on my best friend...i had NO idea where to start...the only thing i had was a picture i "Resized" myself so i could pretty much copy it.
**I would LOVE some input as in how in the world do you start painting! LOL ...do you start from scratch? where do you get your ideas from?? ETC...
Thank you!!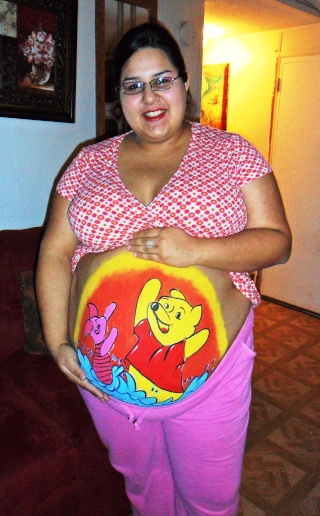 I think it's pretty well done!
Wow! The colors are so vibrant! I know the mom was thrilled!

I draw out the design in white paint while mom is standing. Nothing too detailed, just enough to get the dimensions. I do it while mom is standing because things can distort if I start while she's sitting & then she stands. I paint the rest while she sits, reclines, stands, etc. I also let her take lots of breaks. Whatever is most comfortable for her(I so want a gravity chair).
I think you did a great job and since she's a friend, you might be able to use her over and over again for practice if she doesn't mind. What you did seems to be what most people do in the way of preparing for a belly paint. Either sketch out the design or print the photo that inspires you and go from there.
Yes, take good advantage of your pregnant friends(I'm winking a Whitney b/c most my bellys were done on her

great job the mom looks very happy
Thank you guys!!

@ Psalmbook: Im definitely going to take your advice and do that next time.
@ wmeventservices: yes! shell be my belly practice haha ...shes due soon..in face she was already 1cm dilated when i did that ..im hoping ill get to do another one before she has the baby



Similar topics
---
Permissions in this forum:
You
cannot
reply to topics in this forum