We were already going to attend my daughter's friend's birthday party, so I asked the mom (also a friend) if I could bring my paints for some practice. She was excited (and offered babysitting in return) and I'm happy to say it was an overall success. I kept it simple (partially because all the guests were 4 and under), and some faces turned out better than others, but I was excited to find my hand was not nearly as shaky as previous attempts at painting other people. It probably helped that it was SUCH a casual atmosphere and I knew a lot of the people. I did have one little girl who I'm not sure wanted to be painted and the dad was a bit pushy with her and finally the mom stepped in...thankfully, because she wasn't yet 2 years old! She actually slid out of the chair after I painted some simple hearts on her arm and started to walk away and he picked her up and put her back in the chair saying "It's time to get face painted." Wow.
A few moms asked if I did this professionally, and I gave them my temporary business card, and another mom who baked the cake for the party and bakes professionally, told me parents ask her frequently for face painters...so we exchanged cards. Yay!
And my 4-year-old, as expected, earned the moniker "glitter girl"óbecause she insisted on doing the poofing.



Last edited by earthorange on Sun Feb 27, 2011 10:28 pm; edited 1 time in total (Reason for editing : wrong picture)
Good for you for getting your feet wet! You're designs look great. You signed up for ffp last August, so it's good for you to get your confidence up with friends, and friends kids! Now it's time to go get 'em....!

Lauri Strandell




Number of posts

: 645


Age

: 53


Registration date :

2010-12-04



My first birthday gig was also for a friend, painted about 14 kids, some were bad cause I really was working things out. I'm lucky cause I have a lot of restaurant customer kids that love face painting and I tell them that I am working on a new design, can I practice it on you?!!!

Your spidey looks great, it can't be your first one, my first was on Darren before he took his shower and he wan't happy, but I got to work it out.

Post more pictures!! And always take pic's if you can...the pics are great.



Lauri Strandell




Number of posts

: 645


Age

: 53


Registration date :

2010-12-04



Congrats on a successful party!! And I agree, your spidey looks great!
That's nice you had a good time and the kids too! Sounds you have more gigs coming!

nancy!




Number of posts

: 1256


Age

: 50


Location

: Netherlands


Registration date :

2011-02-19



Great Job! Fells good dont it! Thats what makes it all worth when the kids enjoy it.

AshleyMarie727




Number of posts

: 525


Age

: 27


Location

: Baltimore, Maryland


Registration date :

2010-12-14



Thanks guys...glad you liked the spidey...it wasn't my first. This one was inspired by one I saw on Daizy's site. I've done several of my own versions, the best one was probably at a christmas bazaar where I got to paint a few faces. My funniest experience was when my daughter asked for spiderman BODY PAINT(!) omg she wanted to be painted all over. We compromised on full-face and arms. We were going to a gymboree class for my younger daughter. My daughter is very social...and here she is, wearing a disney princess leotard, in full face/arms spiderman, going up to the other mothers, saying, can I touch your baby? I think some of them were a little creeped out!
I've since ditched the idea of the lines going over the chin, etc. I think it looks really messy. After all, Spiderman's mouth doesn't move!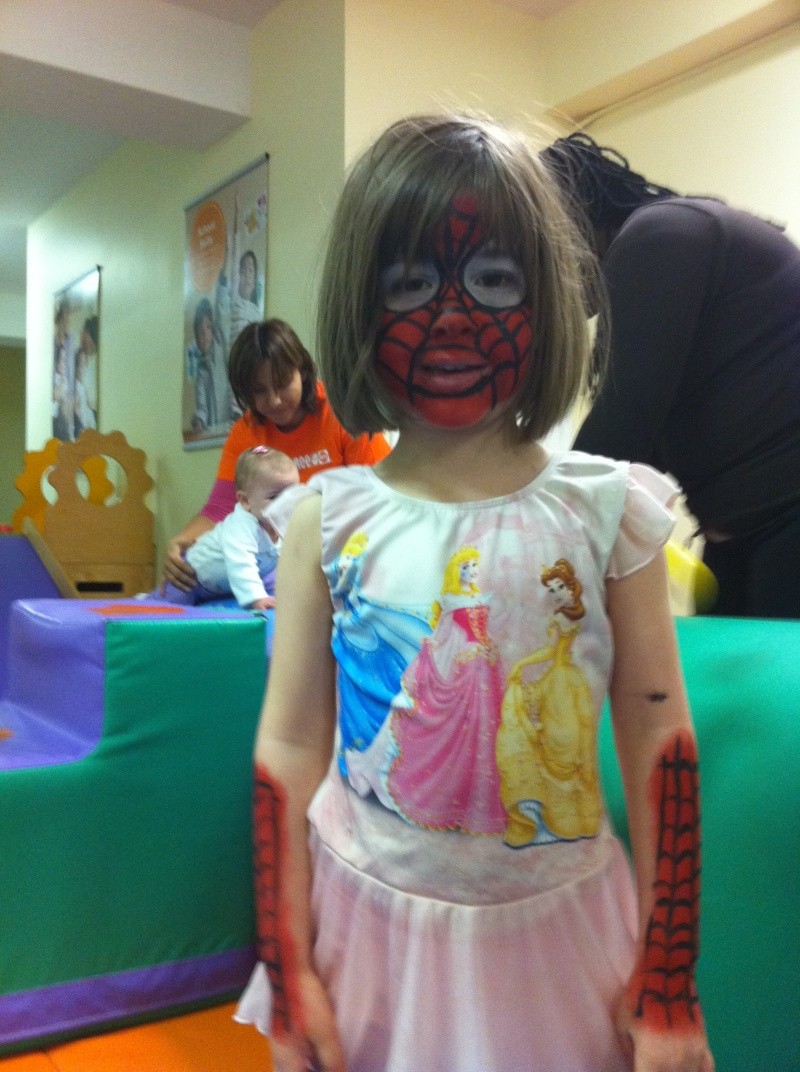 Yay! Congrats on your first gig, what a way to get practice



Similar topics
---
Permissions in this forum:
You
cannot
reply to topics in this forum