I had TWO bellies booked to paint this week, as part of a thing a bunch of us do every year for "red Nose Day'1 of the Uk's biggest fundraisers (aka Comic Relief).

Bit of a rush, you have to do them in March, but I'm off to paint at HKs rugby next week and this was my only free time to do them.

And BOTH mums went into labour the day before their booking!

Cat x

Funny! Maybe you should get a midwife licence. You could paint the mom, deliver the baby & then paint at hir/her 1st birthday party!

I must be with you Cat, every single mom I've booked, has popped! (last week was number 4! ) Maybe I should advertise, "tired of that baby being in there, don't eat spicy food, don't walk around the block just book an appointment to get your belly painted with me and you'll be sure to go into labor early!"




One of the bellies I did last month thought she had Braxton hicks, but while painting we realized this is IT! LOL She really wanted to have the design done because it was her grandpa's artwork, so she went through labour on my anti gravity chair. She went from my place to the hospital and was 9 cm when she arrived! Everyone on that hospital floor had to take turns coming in to take photos of her painted belly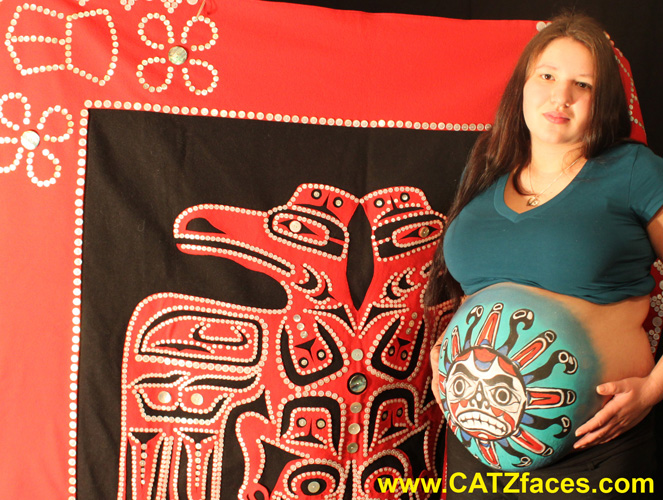 Magna, that is amazing! What a great story! And beautiful artwork...I love it!
I'll book you! I'm 37 weeks and SO TIRED of being pregnant, and I have ALWAYS gone overdue with every baby. The thought of another three weeks is bad enough and I am probably headed for four or five. Ugh.
Aww Sunrise!
And wow, brill story/ pic Catz!
2 funny, love ur story and art Catz .... cant believe the mom held up for so long. wow! she is a trooper..and that painting is so beautiful.

---
Permissions in this forum:
You
cannot
reply to topics in this forum