So I need to order a new split cake to make rainbows, and with all the current hubalaboo about neons, I really don't want to purchase a neon cake right now. I was looking through Metina's shop as well as through some rainbow cakes by silly farms, and I was wondering:

Are neon colors ONLY in the ones that are labelled as being neon? Should I be wondering if I buy a split cake with a bright pink/green that it might be neon?

Also, what brand/color do y'all like for making pretty 'rainbow' butterflies/backdrops (situations where you don't really want/need a 'true' rainbow) if you are NOT using neons? I've used the smaller arty cakes and while I liked the coverage (and that designwork details on things like roses look gorgeous), I'm really looking for a large cake for sponging in backgrounds. And at the moment I'd rather NOT make my own split cakes. I tried to make my own split cakes using Snaz paints and a xacto knife and I ended up with some very expensive cracked messes that didn't load onto a brush well.
I can't tell you about pre-made cakes but I will say I make my own split cakes (just got done making 28 of them actually). I use Paradise just because it's my favorite paint for straight colors. I picked up a set of painters plastic knives and trowels for 2.99 from Michaels, spritz some water on the cakes, allow it to soak and they don't crack when I'm cutting it. They work beautifully. I've gotten to where I can make them pretty quickly.
The Wolfe neons- all of the ingredients are FDA approved and I checked with them, they are fine for cosmetic use. Just the entire formula together hasn't been tested because of the additional cost. These are what I use but to be honest, they took A LOT of getting used to.
Sorry to be off question a bit, but I hope this helps a bit.

For the backdrop colors I like pink/purple. It kinda reminds me of a sunset. I've also taken to loving beach berry(red)/orange together with black and white on the top. Here's a photo...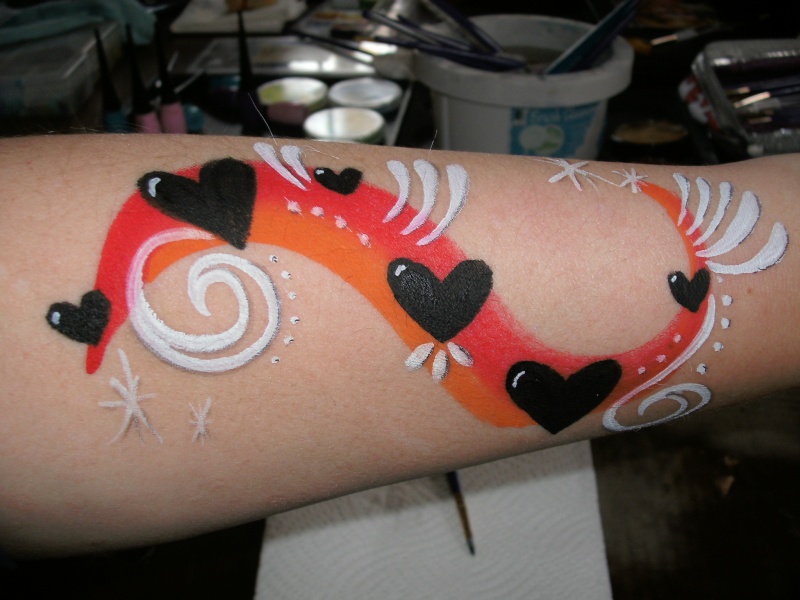 I'm also partial to leafy colors dk green/lt green with black/white roses on the top.
Tag makes a 50g pearl rainbow that is awesome. Pretty sure metina sells it in the shop here.
I love TAG's pearl rainbow too!
TAG's pearl rainbow is absolutely gorgeous and I love it, the green in it just stains me so horribly and I have used it on a kid yet. I know about putting down a layer of silver or gold, but for some reason, green and blue just seem to eat right through those and end up right on my skin. It does come right off with some moisturizer though. The green is such a beautiful color that I bought the full size of it, stainy or not.

fluttersby




Number of posts

: 361


Age

: 52


Location

: Alpena, MI


Registration date :

2010-08-09





Similar topics
---
Permissions in this forum:
You
cannot
reply to topics in this forum