I've got a choice on my board that says "your choice". Kids only choose it occasionally and its usually something easy but if I can't do it I'm not shy to say so. So today I got asked for Ned Kelly. He had a picture so I copied it and I think I did ok. I'll put my pic up when I charge my camera. But I thought this about an Aussie inspired thread cause there are so many Australians on here now. So. Ned Kelly. What would you draw?
WOW! Thats so cool! I would probably go with the metal sheets/robot type base leaving the slit for the eyes (of course!) When I think of dear ol' Ned its all about the armour isn't it??
Sydney Nolans Ned springs to mind...
Well I had never heard of Ned Kelly...I just read his story on wikipedia. Sounds like quite the badass. Fascinating!
What a hard case kid!! Gotta love their imagination,,yes i agree with beans..also guns comes to mind.
Ok so here is what I did for him and he was stoked. I think it is ok for on the spot with kids in line waiting, but on analysis I think that I should have left the eyes unpainted with the slit around them in black and could've even written Ned at the bottom of the helmet in kinda bullet holes/black robot dot kinda things..just to help other people looking at it with the "what is it?" test.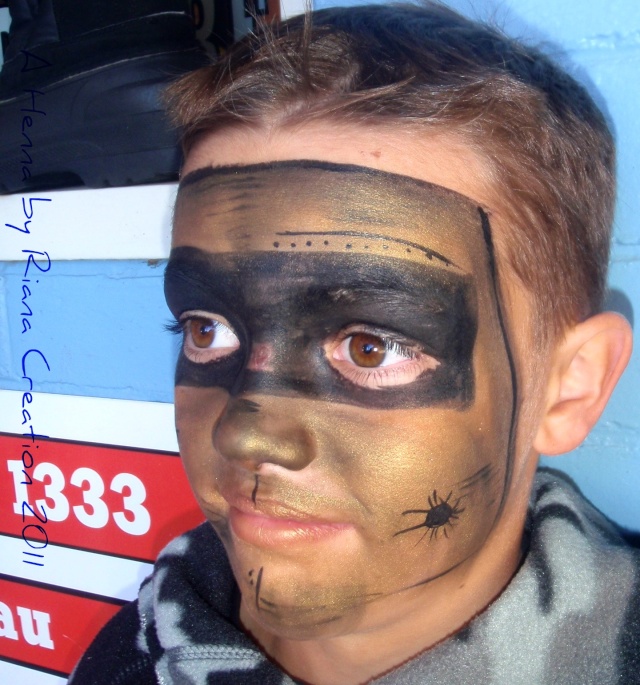 Gotta love his originality though!
I think you nailed it! Precisley what I was thinking and I love that you added a bullet hole!!
I had thought the slit for the eyes to be narrower and perhaps I would use my kryolan Bronze. What did they (kelly gang) make the armour out of?
This reminds me too of a party I did where I painted the kids into character. This kid in relativley plain clothes sits and I asked him what he was and he says: I want to be a murderer! (yikes!) So I painted the Jekyll half face design and he was wrapped!
Very cool JBM..that thinking on your feet..Well done.
Looks great! Well done! you should be proud of that

AUSSIE3070




Number of posts

: 212


Age

: 47


Location

: Melbourne, Australia


Registration date :

2010-09-27





Similar topics
---
Permissions in this forum:
You
cannot
reply to topics in this forum