So I have finally decide to buckle down an try to make a decent portfolio
Here is my first creation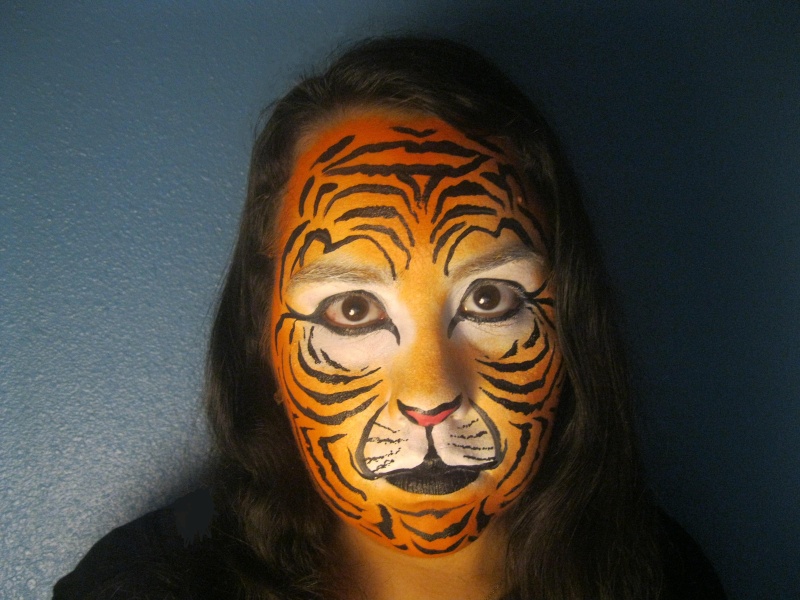 Any critque is appreciated as far as how I can improve it for the future.
I plan to do a face every day (my hubby says that i am bit ambitious

)
What should I paint next?
I know at one point I want to paint a pimp butterfly but other than that I figured I would just go where my brush took me. Anyone have suggestion of faces that should be in a portfolio and/or a painters show board?
The only thing I could really suggest is making the chin white. It may be a personal preferance thing though. Try looking at real animal faces and working from that. Thats where my best 'portfolio' pieces come from.

You are right about the white chin.... As I started to put stripes on I noticed that my chin was odd. I didn't know what to do with it lol
I did some blanket stripes and I was one with it...

Is it just me or do the stripes look too busy.....
too stripey? (is that a word)
Maybe making the lines thicker and using less of them....
The best advice I can give you is to smile in your pictures.
If you look like you love the face paint everyone will love it too.
I'm alright with thin lines but I agree too many can take over.
I've actually stopped painting chins on my tiger as of last weekend - it's the first place they mess up. I just do little teeth.
Also you won't be able to line other people eyes ( especially kids) the way you have in your pic.... so you may want to rework the eye area to something more basic..... just a couple of suggestions! I think your doing really really well!
I do two types of tigers.... "real" and "pretty"
Pretty:
Real:
I think that fewer stripes might be more striking. Too many makes it a bit fussy and takes longer to paint!
Oh yes, I usually don't paint below the lips on kids.
Its the pieces I want to use to show my best work/for advertising that I am talking about.
I do agree with the comment on smiling though

Its a great tiger.
Smiling is for the birds!

I guess I should have 2 portfolios then
I was trying to make a professional one, like to maybe get into theater art or something? It sounds like something I would love to do...
But thank you all so much for the advice!
This is the next one in my portfolio I Think.....
ALSO!!!
FIRST TIME MY HUSBAND LET ME PAINT HIM!!!
And probably the last according to him lol
Here is my hubby demon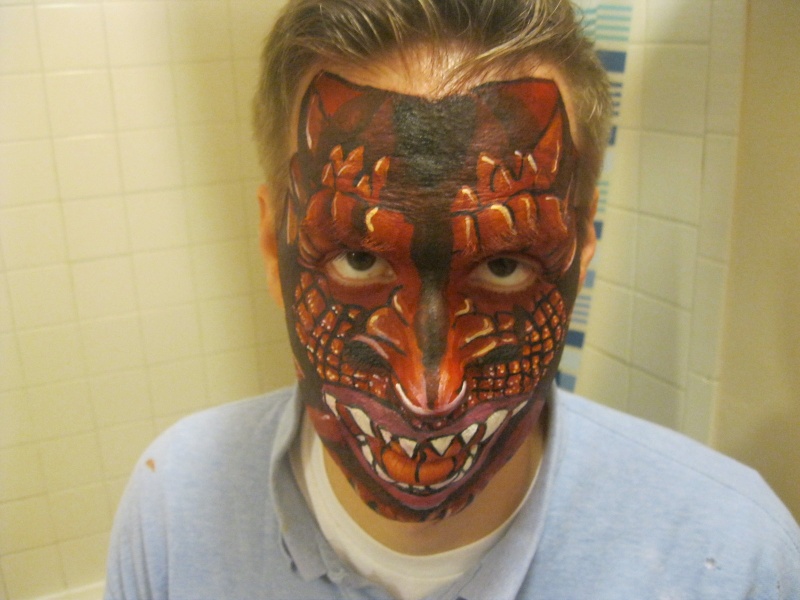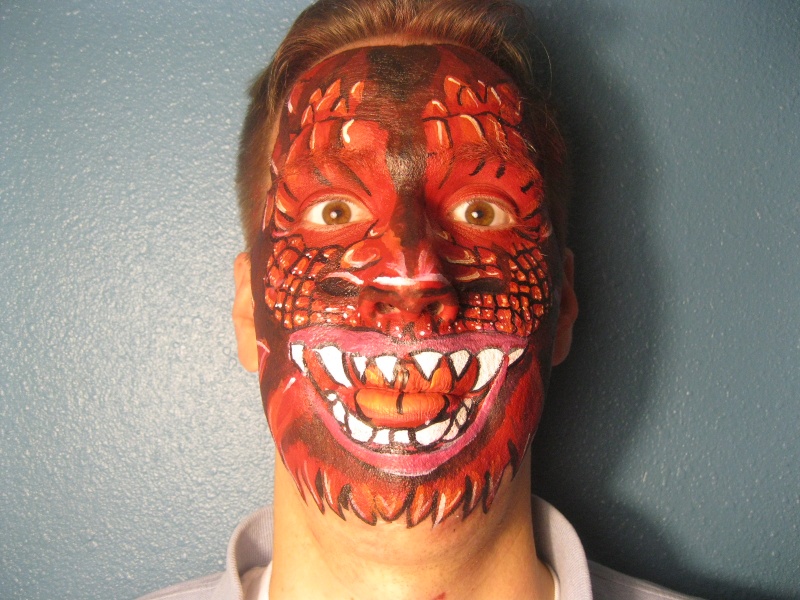 I have a print portfolio, but frankly... the only people who've looked at it in the last decade have been students in my workshops.

For the real world everything is on the internet now.

But, I still keep my print one current - large prints, 8X10 minimum in acid free portfolio (a model's portfolio or a small format scrapbook with inserts in black acid free paper to mount the photos on).

Only have one or two photos of each type of work - two headshots, two fashion/glamour/wedding, two SFX, two bodypainting, two or three face painting then copies of certificates, awards and press clippings.


Similar topics
---
Permissions in this forum:
You
cannot
reply to topics in this forum