I can blend the paradise paints ok but am struggling with blending my wolfe paints, is there some secret to it that I'm just missing? both colors should be wet when blending right? but i just seem to get one color covering another rather than a subtle blend.frustrated!! plus made the mistake of trying to make my own split cakes, i cut up a purple and pink but when trying to use them i either have not enough paint on the brush or its too wet and the colors in the cake run into each other.... do you prefer to wet your brush or the cake? y'all make it look so easy! i know using those split cakes could save me alot of time but i just cant get it right! what splitcakes(or whatever you call them) do you prefer to use? i wanted to buy some this week rather than making them, too messy lol love you guys!!! have a GREAT tuesday!

When dealing w/ wolfe paints, wet the brush, not the paints. Wolfe get very gloppy when over saturated in water. Initially I get the whole flat brush wet & then blot it on a towel. I then just dip the bottom edge of the brush in the water & swipe it back & forth on the artycake. If the bristles split, it's not wet enough & I gently dip again. It takes a lot of practice, but you'll get it in time.
For blending Wolfe, I like to double & triple load my sponges. This is paradise on the sponge, but is the same technique.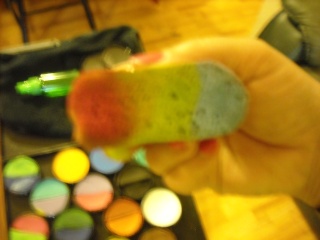 Similar topics
---
Permissions in this forum:
You
cannot
reply to topics in this forum