Full face or 3/4?
Most folks out there seem to paint full faces as a norm.
As a mom, I know that that fabulous look will last as long as the next snack, juice, and wipe... Even on the teen and adult set. For this reason, I personally prefer to offer designs that avoid the mouth area all together. I figure the kids will look great all day (and possibly even the next morning

) and their parents have one less drama to deal with.
This makes for less than fabulous felines since I push the muzzle area about the nose...
and may impact my ability to charge per face ?
I am just wondering in terms of marketability whether this is a mistake on my part?
thoughts? Do any of you take this approach?
Am I over thinking this?
Look forward to your opinions.
Avigail
avigailmilder wrote:

Am I over thinking this?


Yes.

It doesn't hurt to have designs that avoid the mouth.... but you can simply modify any full face design to accommodate a messy kid.
LOL at Shannon's answer...

I consider it a full face regardless of whether the mouth is done or not, so I don't think it effects marketability at all, myself. Of course, I price my designs based on how elaborate they are, and not how much area they cover, so it's a moot point for me.
I rarely paint anything below the lips, for any design. I do paint lips often for girls, but if the paint is washed away the rest of the design still usually looks good. But after a few years in this business, I have learned to be happy with the immediate result and not worry about how it looks an hour from then. Some kids just can't keep their face on. I advise parents to take pictures right away.

hehe yea, get pictures quick!
I like having the option of doing full and 3/4 depending on what the parent/child wants.
If the want to be totally covered...sure, I'll do it, but I'll warn the parents that once they eat...erm...no guarantees!
I did this on a 6 year old for Halloween and the mom said it lasted two days, looking good still..and another few before she finally MADE him wash it off...haha!
Then again, I did a 3/4 quarter (shortened muzzle pink leopard style) on a little girl and we only used lip gloss on the lips so the mom could touch it up for her Halloween party that night and she smeared under her eyes before I'd even finished her design! I had to do emergency patching and the mom ran for her camera! Oie!! But it still was cute and she had a matching pink leopard kitty jumpsuit! The one eye was a bit wonky for the underliner, as she was only 4 and kept wiggling...but I managed to fix it but didn't get a final pic...oh well!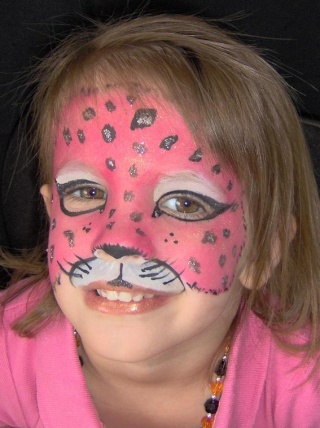 I am the same way, full face or three fourths, same difference to me.

But although I don't sweat if they are going to mess it up in 10 seconds, I try not to do something over a small child that I know will mess it up for
1. Moms coming back for touch ups, 2. they are marketing billboards walking around and 3. If it looks like photographers are about.

The last thing you want is some reporter spinning a story about shody face painting because a kid ate a hot dog! But it is easy to sit here a spew reasoning. I really don't think about it much when the kids in the chair.

My two cents.

Nice lepard Heather, MEOW!

_________________
Face Paint Forum Shop
www.FacePaintForumShop.com
TAG, Diamond FX, Wolfe, Global, Kryvaline, Paradise and other Face Painting Supplies
Shipping from $3.99
Washington DC Metro--But Serving the World!
Ditto....
I don't do much (apart from Darth Maul & dino's) with much detail below mouths on kids tho.

I DO tell them (especially the few wee girls who ask for 'lipstick') that it WILL come off their mouths etc and not to expect it to stay (or get free touch-ups all the time).

I just adapt to what they look like mess-wise/ age/ behaviour wise and what I get asked for.

cat x
Avigail, I feel the same way as most of my designs are three quarter & masks due to the fact that kids eat after I paint at parties & restaurant gigs. It doesnt hurt my marketing, even per face and parents really appreciate that even after their child eats, the design still looks good ; )
Oh, I do a few full faces I can count on one hand and yuppers, they do get messed up but that's what was requested, and not my problem after I paint it.
Thats why I dont paint on frequently washed hands, just arms & legs.
Cheers,
Susan
Fantasy Faces For You!
www.SusanLeeBillings.com
I tried the tiger design that is three quarters, but had so many kids asking why the bottom wasn't covered, that I changes it back.
I just look at the kid and usually you can tell if they can keep up with a full face or not... if they are covered in crumbs and ketchup, then I'd say keep it above the mouth... if they are sweaty and wiggly...then I'd say keep it away from the eyes. You just have to feel things out.


Similar topics
---
Permissions in this forum:
You
cannot
reply to topics in this forum