Ok, I know this probably been done to death, and I am so sorry, but I am looking for current boy designs (ages 4-5).
My own boy watches mostly Dora and Gabba Gabba. What other common (simple!) designs that you had this age group ask for?

I do have
Pirate, Lizard, knight, spiderman, batman, and superman.
Will work on spongebob.

What else is "popular" with that age group?
cars, rockets..space..super hero masks..sea scene..sharks..tigers....Propbably high time to make up some new designs for all the new programmes they love.. some of those gabba gabba critters would look really fun..Good luck and show us what you come up with..
Something that made me chuckle - My son is great to practice on, because he is not only a constantly "moving target", but also ALWAYS throw in a curve ball.
Whenever I ask him what he would like painted, he just tells me to pain whatever he happens to be looking at.

I've attempted to paint a lantern, a printer, a truck, a bowl of cereal.
Can't say that I did well in any of those.



I do a lot of sharks on their hand.... they can see it, see what I'm doing and it's easier to hold their hand still than their face. Spiders and snakes are also popular. I recently added a little spaceship to my designs so we'll see how well that one does.
IWhen I paint my little kid people the Boys like dragons, knights, frogs, snakes, bugs (all sorts), cars, race cars, monster trucks, I get a lot of tools to believe it or not (hammers, tool boxes, tape measures, etc), superheros, mickey mouse, stitch, spacealiens, TRAINS, lotsa trains (thomas, chugginton, ect)
ooo I bet your talking about full faces arent you? Im so used to cheek art. Full face boys I always get batman, spidey, zombies, pirates, dragons, tigers, lions, monsters, dogs, robots, and then pumpkins. in that order. I recently started getting the mario brothers, that one is easy and quick to. Mario or Luigi
I agree, with the moving ones its easier to paint the hands. They get interested in watching you (hold still sometimes!) and then get to see the pic whenever they want. Hands, cheeks then full face. That is how I offer.
I have some boy hands/cheeks if you want to see them. I dont have many full faces but Ill post now my full face ones.
Good luck!
Ah, thanks for examples, Tara!
Snakes - I forgot all about the snakes. hehe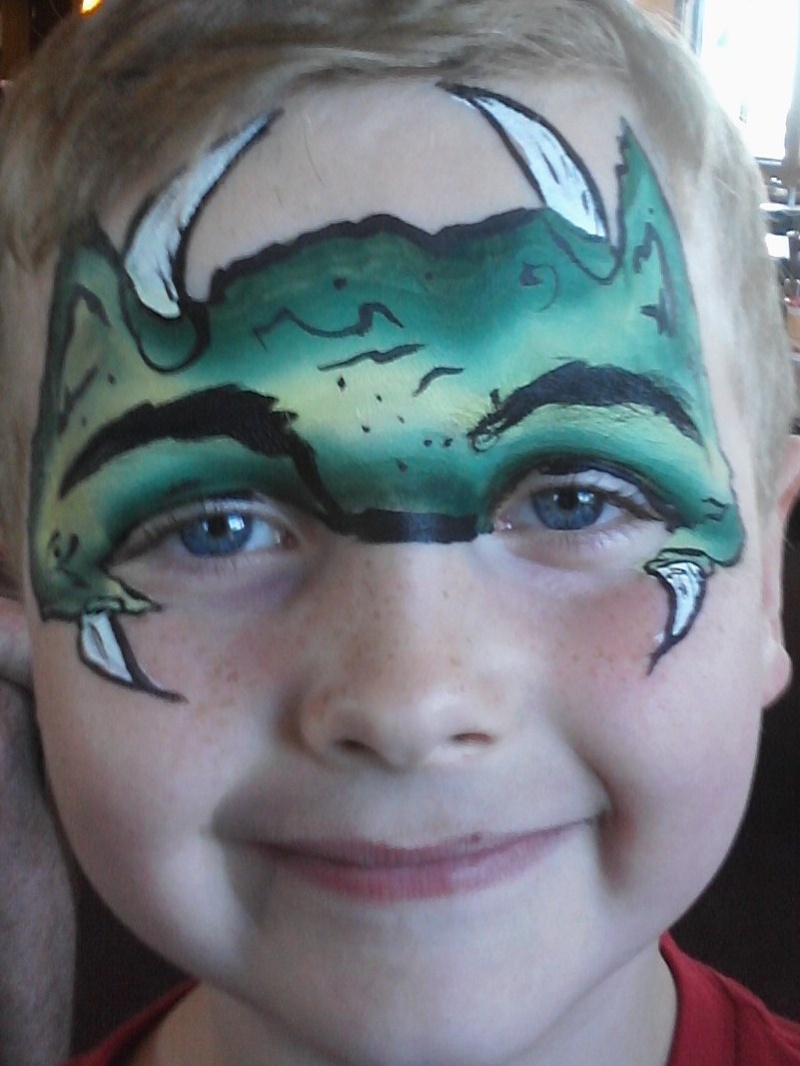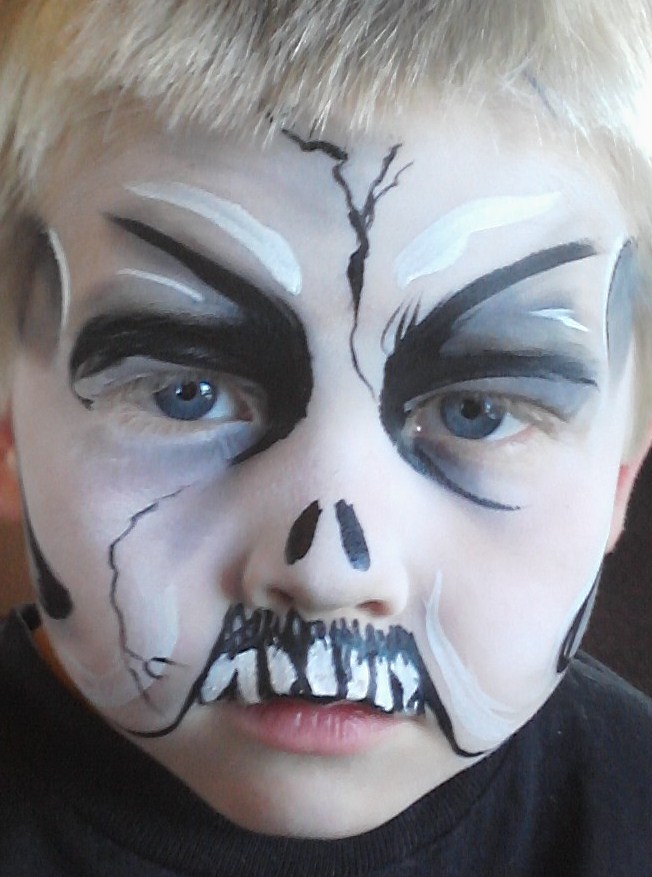 I did these the other night ,I found the monster design on a fast faces thread.I still need to practice them more ,but they were quick. of coarse I forgot to take a pic. of the blue monster that turned out much better

The little green monster kept saying I must be form the circus because I painted so good LOL!!
Here is my Brobee from Yo Gabba Gabba design. I think any of those characters would look cute as a crown or mask design. I did this one for the 5 minute TAG thread.
It has the approval of my four year old cousin, so i guess that's good.
For that age group, I do a lot of hand and arm designs. Spidey or batman watches, spidey arm, snakes, dragons. I do a really quick dragon horn design above the eyes.
No spongebob yet, but I need to work on one. I get asked all the time for spongebob.


Similar topics
---
Permissions in this forum:
You
cannot
reply to topics in this forum