Hi again! I tend to lurk, hope nobody minds!

Anyway. . . I went hunting and couldn't find an answer. I have a paradise 30-color palette and some tag one-strokes and some brand-spankin' new DFX and snaz. I also live in the hills of Appalachia, where it gets hot and muggy and STAYS that way. I've read that a lot of you recommended keeping your paints dried out between gigs so they don't goop up when you need them, but here's my problem - I live in a small apartment with two cats and a smoker. How can I let my paints stay open to dry completely (UGH, I hate the plastic sheet in the palette - it pulls my paints up into ice cream swirlies!!) without getting dust or cat hair in them? Can I stuff them in a closet, up top? How anti-bacterial are the paints - is there anything I can add/use to make darn tootin' sure they're always fresh and completely sanitary? In that sense, does anyone use alcohol on brushes/sponges between faces? I have halved Q-tips, so lips don't scare me, but there is going to be transfer from brush to cake, even if it's as innocuous as dust or shed skin cells. How do you keep your paints from becoming little multicolored cootie farms?

ladytetsu




Number of posts

: 19


Location

: Athens, OH


Registration date :

2011-05-22



it's a little hard to read because of the wide justification and background image behind the text, but there is a lot of good information about what you're asking here: http://www.snazaroo.us/safety.htm
wow - hey, Perry, thanks for the fast reply. That does definitely clear up a few no-nos for me - I'm trying to ask all the obvious questions I can think of before I touch paint to somebody else's face - and at least I haven't mucked up the rigout I have!!!!

ladytetsu




Number of posts

: 19


Location

: Athens, OH


Registration date :

2011-05-22



Can you get one of those large flat "under the bed" boxes? Lay your paints out in that (with the lid on the box but not the paints) to protect from cats. Charcoal will absorb smoke smell. Silica beads (like you find in a small packet in the bottom of a new purse or something) will remove moisture (from your box).

I clean brushes between children with alcohol yes, but I don't dip back in the same paint on the same child (I use a fresh brush or paint on a stainless steel palette).

Noella




Number of posts

: 532


Age

: 44


Location

: close to Toronto, Ontario, Canada


Registration date :

2010-08-09



oooooh oooooh, oooh oh oh - you, madam, are a genius!!! I actually have underbed boxes not in use and silica beads from flower work - oh, my, I can't believe I didn't think of that - THANK you!!!

ladytetsu




Number of posts

: 19


Location

: Athens, OH


Registration date :

2011-05-22



I keep all my paints w/ their tops off inside scrapbook paper holders. It allows enough airflow for them to dry out when not in use, but keeps the pet hair out(we have a German Shepard & I have found the occasional hair in my kit(YUCK).
They're about $5 at Walmart in the craft section.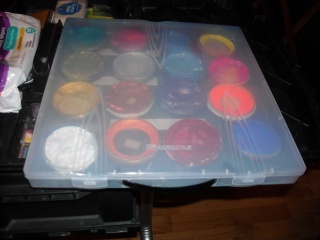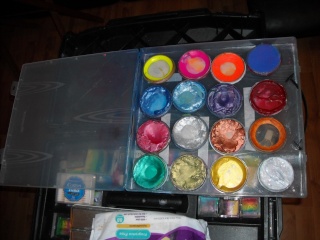 There's a lot on the forum about cleaning brushes, etc.
I clean mine at the end of the day. I use ivory soap, rinse w/ water & repeat till all the paint is out. I then dunk them in rubbing alcohol & let them air dry.
I clean my sponges w/ ivory soap repeatedly till they rinse clean. I then put them in a mesh bag a wash them on hot in the washing machine. I let them air dry. Make sure to wash your water cups(I use the dishwasher or hand wash). I wipe down my paints w/ antibacterial wipes(the kind for faces) & my rolling kit(Fatmax) w/ clorox wipes(to get all the little drips, smudges, etc).
I'm a little of a clean freak

Boy you are in the hills of appalachia, I have family in Cutler, ohio that work in athens. Like a whole different beautiful world round those parts. I have the laptop cases, and leave the paint lids off and close the case and put them in the fridge.

I've tried leaving the lids off, but all the paint falls out. I've found that repeated use and keeping them open at events every week dries them out well enough over a month or so. When you first get your paints they are much more mushy than they will be with use.
The area i live in rarely gets overly humid/muggy, but when it does i run into the same trouble. so i run a de-humidifier until the paints, sponges etc are sufficiently dry to cap, then store them in a container as air tight as i can get. if you're running an AC unit that also helps.

sunflower




Number of posts

: 41


Location

: usa


Registration date :

2011-06-27





Similar topics
---
Permissions in this forum:
You
cannot
reply to topics in this forum