I did some pre-Fourth of July practice today and I would like some feedback/tips. I have a pretty thick skin (I deal with editors, it's a necessity) so please don't hold back!
Here's my flag (from the newsletter SBS) and some random fireworks. You can probably tell just by looking which was my first and which was my last! I am pretty pleased with the flag design, that was a great & easy to follow SBS, so if the designer is here, thanks!
Here's the one I'd like a little more help with. This is a design based on a logo from a video game my friend's son and I both play. (It's the Brotherhood of Steel logo from Fallout 3, if anyone else here is into games.) I used the bottom of a cup for the large circle, but the gears were wicked hard. I definitely learned to work left to right and top to bottom! Any tips for small, open-center circles like this? Is there a way to do it with a small pouncer?
The last one...well, it's kind of awful. Obviously my linework needs...well, work, but I just need to practice more. But this was my first attempt at using a sponge and blending and I don't think I did a good job. Will it be easier when I get my Snaz kit? Are there tricks?
Yup, line work, line work, line work.

Then, try using a slightly larger brush. A #4 round is going to enable to you to get a better thin to thick to thin than a really thin brush will.

Blending - did you really want to blend red into blue? You're going to get purple which might be your goal, but maybe not for a July 4th design. Instead of red, blue, white, try :red, white, blue white. You can blend the red into the white and the blue into the white for a prettier transition.
I think the logo looks pretty good. Just add a few white highlight for some depth. The flag looks good.

One the firworks alternate the colors rather than adding the colors to the white fireworks. Adding tiny dots to each line of the burst also gives a twinkle effect.

Linework takes practice and practice and practice. I think you are well on your way.

How are your tear drops and tiger stripes? These are staples too.

-Metina

_________________
Face Paint Forum Shop
www.FacePaintForumShop.com
TAG, Diamond FX, Wolfe, Global, Kryvaline, Paradise and other Face Painting Supplies
Shipping from $3.99
Washington DC Metro--But Serving the World!
You also might want to think about making or buying a split cake of red white blue.
You can make something like this: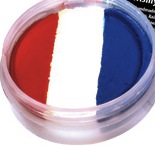 and/or a one-stroke like this:

Wow, that dippy pot idea is great! I don't have any paint to spare right now, but I'll keep it in mind for when I get my next palette.
My teardrops are decent, but my tiger stripes...I don't think I've even practiced those yet! I'll get on it!
I'll start looking at brushes next time I get to the craft store. It's difficult to get a lot of variety in my designs with only 3 small brushes and a sponge.
Gilded, I had the same reaction to blending the blue & red, but I was following a SBS so I just did it the way they did. Your suggestion is much better!
Gina, I am seriously coveting split cakes. I have a writing gig coming up that I think is going to pay for a few of those....but it'll be too late for 4th of July by the time I have the money.

My Snaz sparkle set & glitter gel should arrive tomorrow...I would have ordered from the forum shop but I couldn't pass up two-day shipping (I am anxious to get that glitter).
Thanks for all the tips! Y'all are too sweet!
Vi has an excellent vid on blending... https://youtu.be/nm7lEq9-1Ng

There are some youtubes on how to make your own splits!

---
Permissions in this forum:
You
cannot
reply to topics in this forum