I am painting at a Karate picnic this weekend. I am still in the learning stage and don't have a huge number of designs yet. Does anyone have any ideas of what might be popular at a karate function? I am real good at butterflies and kitties, but I don't think the boys will be asking for many of those. I did learn a really cool spider from FABA so I have that one ready, and I am trying to get my daughter to let me practice Spiderman on her, but she isn't cooperating. Any pics or ideas would be greatly appreciated.
I did a couple semit karate themed ones at my last birthday. A tiger with a green bandana cuz he was a green belt. The panda def needs work I was going from memory. But my boyfriend really liked the bamboo added.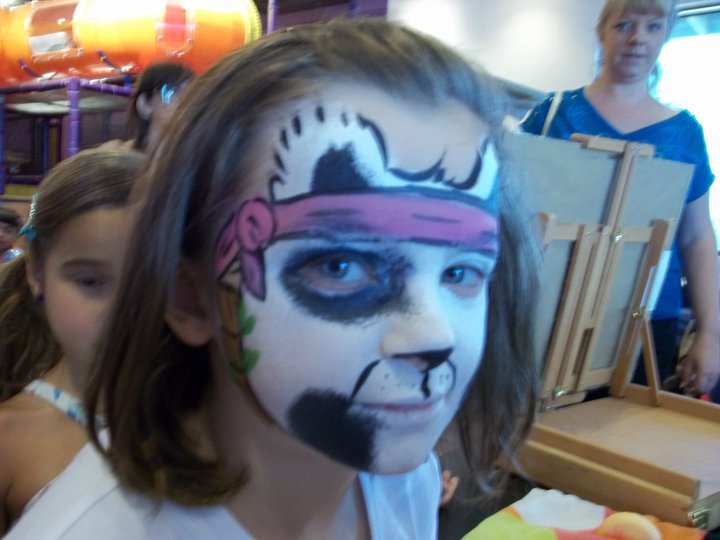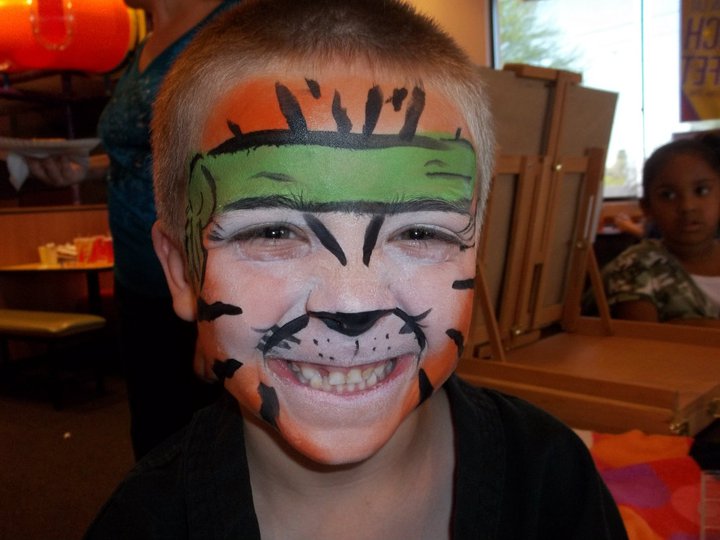 I would look up kung fu panda pics. I know it's not karate, but kids <3 it.
There might also be requests for ninjas... But instead of painting everyone's faces black, haha, you can suggest shuriken (throwing stars) for cheeks?
Also, teenage mutant ninja turtles! I dunno if they're still popular, I hope so. ;-;
Good luck!
___________________________________________________________________________
****Edit
Idea! Shuriken on the backs of hands, they'll have a blast pretending to throw them at each other!
(I know little boys all too well.)

kicat




Number of posts

: 22


Registration date :

2011-08-21



Also be ready with the regular boy stuff, snakes, dragons, monsters. Not all of them will want the themed stuff.
It might be cool to do a sunset and then a karate person on top doing a kick. Maybe something from the "new karate kid" movie.
Good Luck

I painted a whole karate studio( there's a youtube video out there somewhere w/ all the kids).
I did lots of different tigers, ninjas, power rangers(I hate painting power rangers btw).
a ninja(thank you cat for this inspiration)
white tiger
Here's the link:

https://www.youtube.com/watch?v=rhxKSW1updA
Thank you for all the ideas. The picnic was a huge success. I don't know why I was worried. All the girls wanted "rainbow neon butterfly" or pink butterfly and the boys wanted a spider or super hero. I also did a couple puppies. No karate requests at all.
That is usually how it goes! It's still fun making up new designs

LOL! Yup, the parents will want it themed & the kids just want the usual stuff. If the adults stick to their gun & say only paint ______, it usually ends up w/ sad kids. I did a dinosaur party where the mom would not let anyone get anything NOT dinosaur. One little girl wanted to be a princess so bad she cried. I tried to make it a princess dinosaur w/ flowers, etc, but she wouldn't have it.


Similar topics
---
Permissions in this forum:
You
cannot
reply to topics in this forum