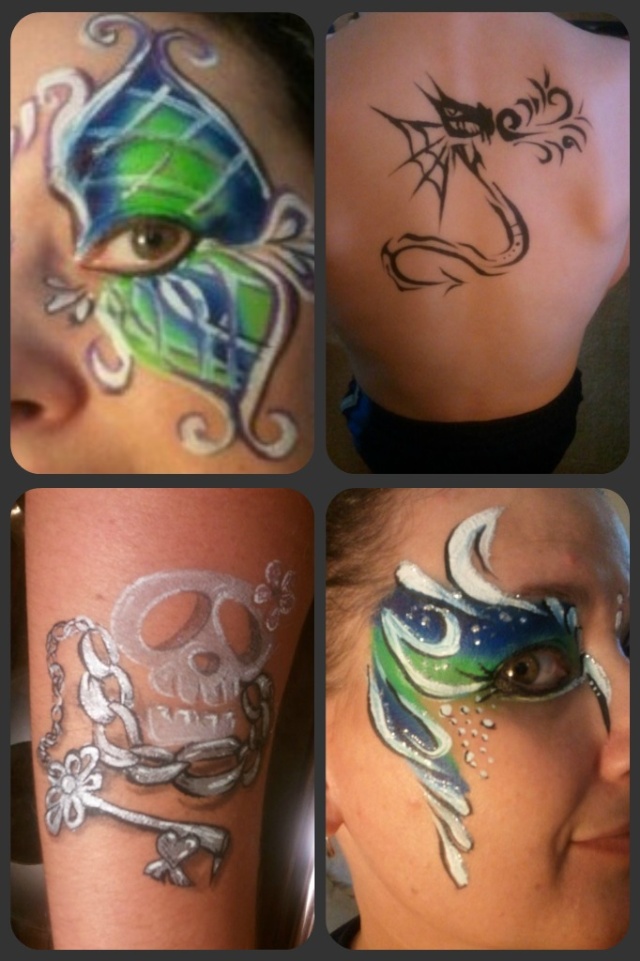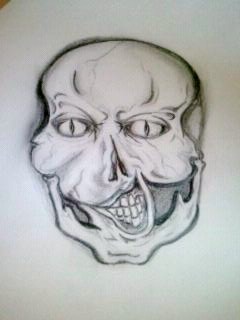 I was flipping through Wolfe Brothers photos on FB - I sketched out a skull and a zombie to work on later with my paint and it got me in a sketching mood I guess-there are some things not quite rite but for not doing it in a very long time, I'm happy with it .The half butterfly was inspired by a photo on the same site-I was having a hard time w/ that one on myself, needs more work.I am liking the eye design and my tribal dragon is getting better-it was looking more like a seahorse

looks great..needs to just rain more often...lol...tfs..
I really like your skull and chain and that sketch is pretty creepy. Way to take advantage of a rainy day!! I can't wait for it to start warming up enough for me to get back into shorts again. Missing my leg canvas. (winter over here)
I LOVE the scull and chain, so delicate and really wonderful shading. How did you do that? Share your rainy day details! LOVE IT!


A face painting mom - The skull is a tattoo done w/ starblends I just keep adding different paint around it

For the shading I took a small container sprayed water in it and used the brush that was already loaded w/ black from the line work. Made a very watery consistency dab off excess water . I looked at the chain and pictured a light coming from one spot to try to figure out were the shadows would be.
I found small paint containers at Micheal's w/ snap shut lid so now I will keep that in my kit.
I am loving starblends more and more...and still have to try them with glittler tattoos! So fun to mix all the different mediums together, I am practicing henna designs right now, and seeing how a mixture of all of them can lead to something really special! Thanks for posting! I have that scull glittler tat stencil in my kit...I am going to try that one, and the transformer, I bet boys would like the erie quality!


---
Permissions in this forum:
You
cannot
reply to topics in this forum