I get to get crakin' on Belly #2 tomorrow. And here's the really crazy part- She wants to turn it into a full body! What the heck? What am I going to do with that? I feel like I should sieze the opportunity- I mean, when am I gonna find another girl willing to do that! But I'm totally blanking on what to do. I've got 13 hours to come up with a plan. What would you do with a pregnant body paint model who's down with anything?
Have her laying down, Mt. Fuji on the belly, cherry blossoms.

Check out Jinny's bellies here http://www.jinnymakeup.com/en.html
Yup, I would have suggested Jinnys work too! I have always wanted to do something like that! Go for it and have fun!!!

Has she given you any idea on what she wants?
Thank You!! I'm off to check it out. The girl just wants me to have fun and "go nuts!" Blank canvases are so hard! I know she likes pink and girly though.
I like Pashur's beautiful layered brush strokes...so a beautiful painting on the belly and then layers and layers of long teardrops and bling, etc. up the body.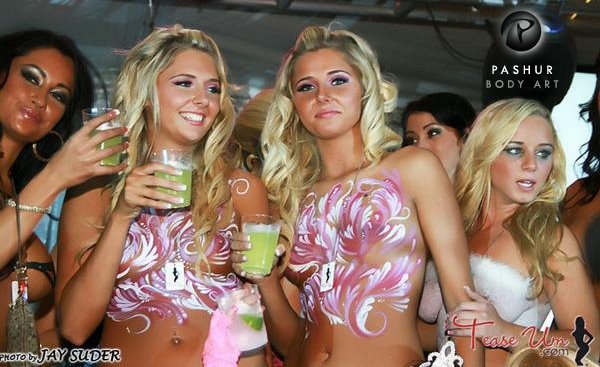 Another idea, I almost immediately thought of the arms as branches that could wrap around the belly...maybe a nest with baby birds? The cherry blossoms could be incorporated with that also.
Have fun. I hope you can post pictures.
D.
What about a baby deer curled up and sleeping on the baby bump and then grass and forest designs on the rest of her. You could paint a lot of flowers and maybe some other animals too.
Haven't a clue! *L*
But, want to wish you all the best in this endeavor!
Wow, sounds like a great opportunity! To save some time, try to only paint the front of the model(chances are you won't be taking any backside pics). Full body can be a pretty long paint....
Heather Aguilera does a lot of great stuff for bellies too!
http://www.heatherslivingart.com/prenatal.html
that's the webpage I was looking for Linda..... you read my mind!

Good luck Geek!
Boo. my momma flaked out. Actually she called me up about 2 hours late while I was painting another model wanting to come late- uh. no, I'm already on to something else hun. She's a friend's sister, so I haven't decided if I'm going to give her another shot or not. If I do I will definately be photographing her myself- not going to waste a good photo session on a no-show!

On the bright side, I had a marvelous day painting. THIS photographer is amazing. And my model was such a pro- We got to preview the pics right out of the camera-- I can't even imagine how editing could improve them! Just wait till you see...


Similar topics
---
Permissions in this forum:
You
cannot
reply to topics in this forum