I had a lot of fun doing this so I thought I would share. I'll probably do a single design on my upper arm next time so it's more visible. I got the henna from a local Krishna temple (I don't think they even do henna...but at least they sell it!) and it stains really dark in a hour or two.
I did the henna the night before and then freehand brushed the glitter glue in the petals. I did each flower separately so the colors wouldn't mix...then you could do the green and gold all at once.
I did my nails to match by putting on a coat of similar colored polish one nail at a time and scooping a little glitter on and then moving to the next nail and then top coating.
D.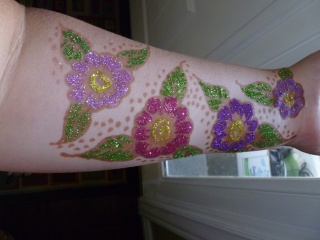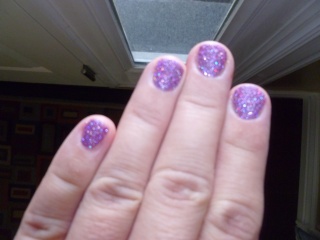 Just a quick FYI, that is not real henna.....that is a bit of henna and a ton of chemical, that's why it stains so fast, but adding glitter and paint is sooo much fun! We call this 'zardozi'! I do this mostly with brides! Good job and hope to see you enjoying it even more!!

Well, that's good to know. It's called Abbas in a green foil cone.
I tried to mix my own henna but I'm doing something wrong. I think I'm not letting it bloom or something like that. We kept it on overnight and still only got about this color.
I guess I'll try again!

D.


Similar topics
---
Permissions in this forum:
You
cannot
reply to topics in this forum