I just wanted to share some pics of my Fatmax and some cool things that I have found handy.
(Please excuse the lack of paint. I have a big order coming (sadly not intime for my gig tonight) but I will have 28 new colors by the end of the month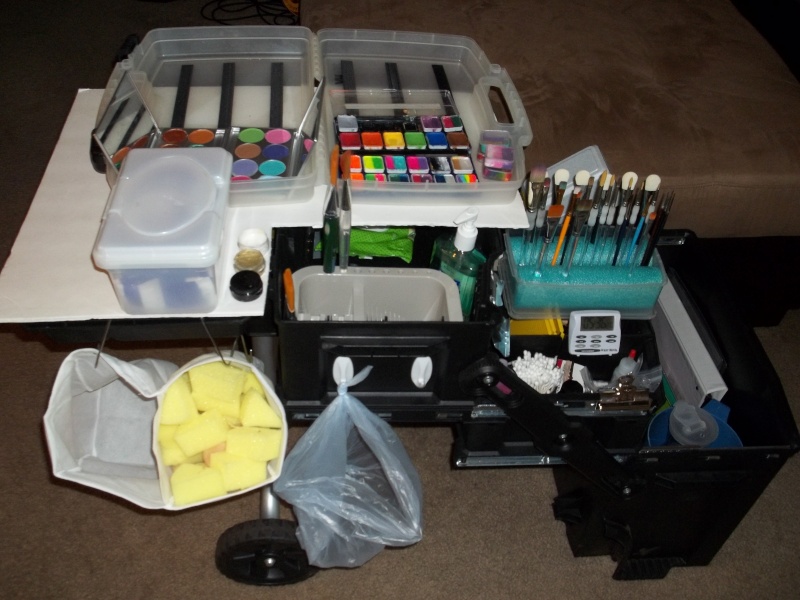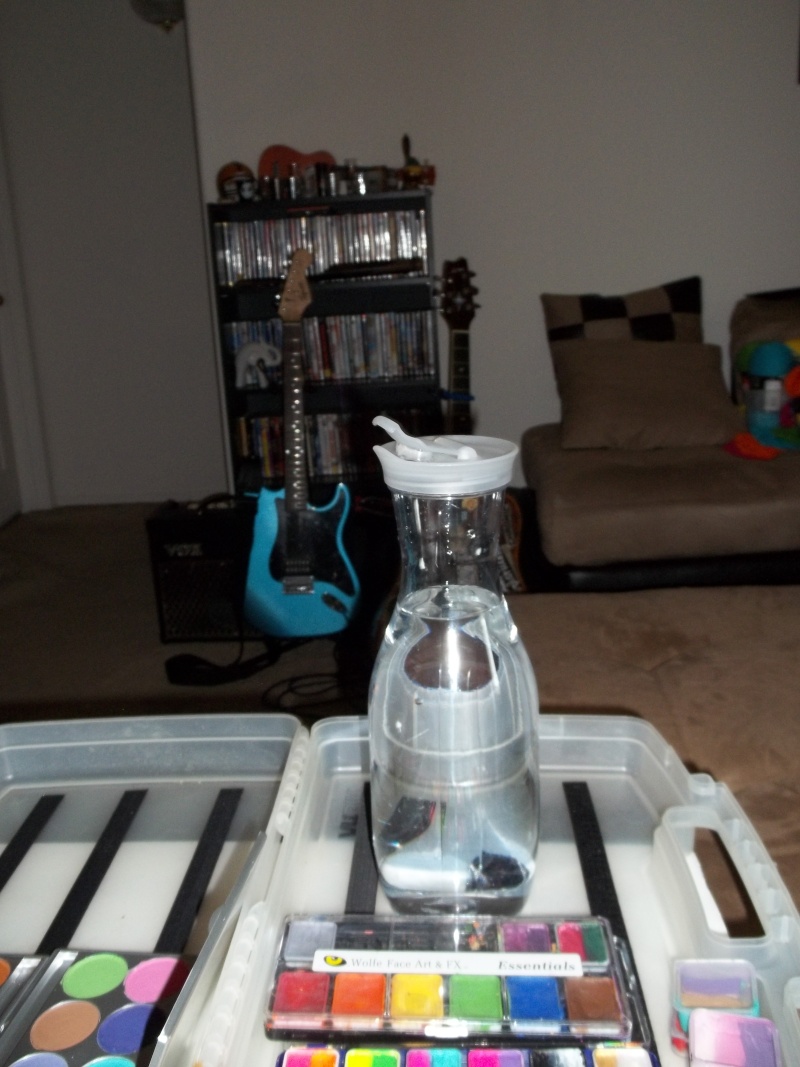 This is great for small gigs so I don't have to worry about a water scource. It is plastic! Looks nice and fits in the bottom of my Fatmax.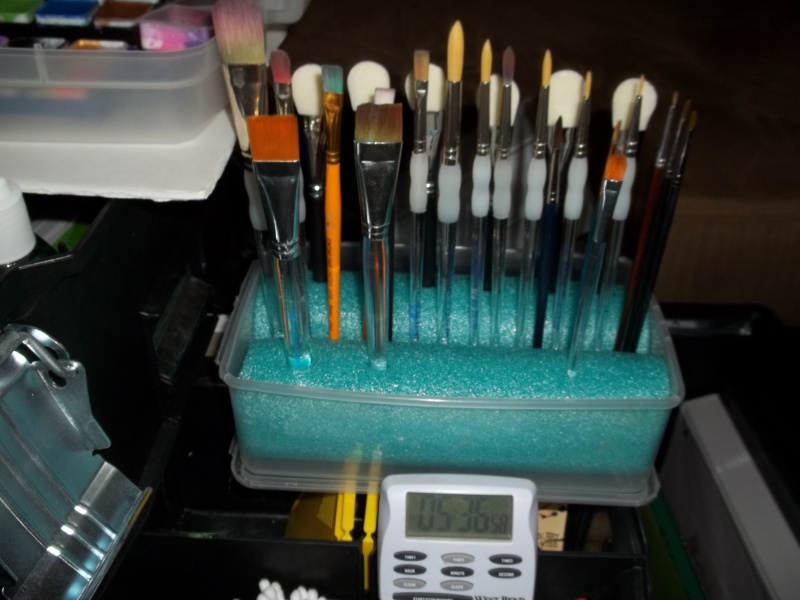 This was a plastic box I had lying around with a lid. I cut the lid off and put two parts of a pool noodle in it. My main brushes fit between the two noodles and then I can poke holes in the noodle to hold larger or odd shapped items

The timer is great because I can set it if I need it so I end on time for another gig or just have it to see the time. I am really bad at checking my phone so this can clip where I need it.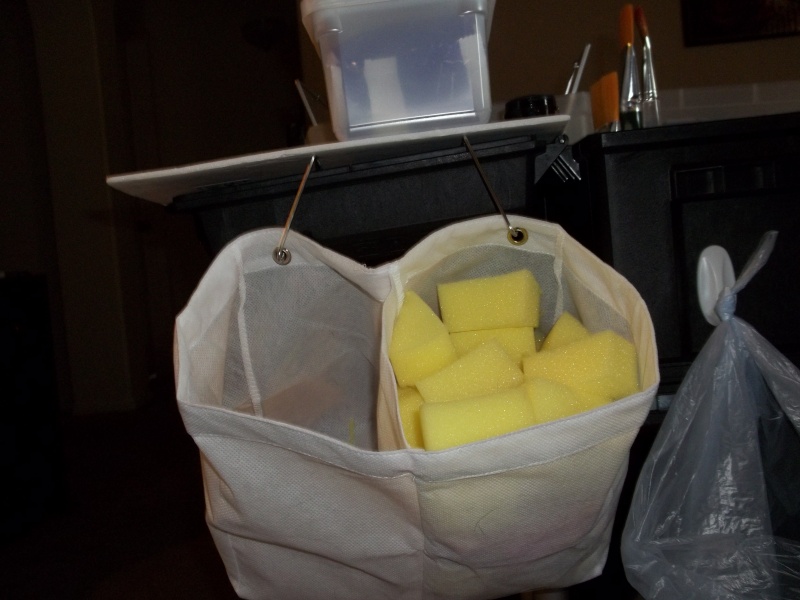 This is a clothespin holder from the dollar store! collapseable and hangs from my fatmax

One side for clean and one for Dirty.
I also added those Command strip hooks to the out side for a trash bag and anything else I might need to hang up...(Hand Mirror)
Oh I really like the idea of the hook on the outside of the FM!! Very clever!

What are in the three small pots (white, gold, black)? Are they dippy pots or something else?
Nice.
You can tell the dirty sponge holder has never been used! lol
I hope it cleans up good if it's white.
Lol those are what I was wanting to put all my paints in but i don't like them. they are too small ( Only hold 30g and move too much. I have a bunch of Paradise pots on their way.

The hooks on the fatmax are great they are near the handles and so there is like a indent so they don;t stick out and get caught they are also removable if i had to take them off for some reason

I imagine it will clean up well it's like a canvas(ish) type of material but it was only a$ so easily replaceable if need be, i could also line it will the little trashbags I got that are like 3 gallons.

I just went on a little shopping spree so there are a few things that still haven't been used... I have a gig tonight so that wont be problem.

Looks great. I like you you've got your brushes set up. Is that a cut up pool noodle?
That is so great Izzy! I love the timer, never thought of that, I have to go shopping at the dollar store today! Cutting the foam core in an "L" shape like that is brilliant! I have found some tool boxes at walmart made by stanley, they have little purple boxes (removable) inside, and they fit perfectly inside the fat max. I put all my paints in there with velcro and made a brush holder out of the lids (they don't lay flat) but I am not quite happy with the brus holder yet. I still have not figured out how to get pictures up, exept my avitar, I will have to really try harder. I am going to put some of your ideas in action! Thanks so much for posting it!
t
I like the kitchen timer too! I usually set my cell phone alarm to go off 15 min before the end time- but the last few gigs have been so loud I haven't been able to hear it!
Great ideas. I love when things come together and look so organized. what fun!...thanks for sharing. love the whole look!


Similar topics
---
Permissions in this forum:
You
cannot
reply to topics in this forum