So I might be a little stumped. I bought a pink/purple Tag Split and didn't really think it through before I bought it.....
Do you have this color split? If so what do you use it for?

Thanks....

I don't have that particular split (yet), but I've used those colors (the pearl ones) for butterflies and random pretty eye designs and masks. Having them in a split is a very fast and effective way to load your sponge quickly and those two colors are HIGHLY requested for butterflies in my experience. I plan on eventually getting the pearl pink/purple split, the pearl pink/white split and the pearl purple/lilac split eventually because I use those SO much for butterflies but it'll save me time to just load them all at once instead of having to load both from different pots.
You can also use them separately with a brush or sponge.
'
Thanks Stacia! That's why I got it originally, I figured it would save room and I would use the two colors for my girls. But now I'm also looking at cost effective ways to buy paint especially since hubs is kinda freaking out at me buying paint so much and the brushes and the sponges and and and lol...you get the idea.
Oh trust me, my husband did the SAME thing when I started buying paint. I think my first order was about $100, second was about $80, and a healthy sprinkling of a few bucks here and there for brushes and sponges. Now all in all I've spent at least $1000.00 on paint and gear and other misc supplies...and I don't regret it a bit, and I can happily say that my skeptical husband is finally on board

!
You can always use each color alone also. Those splits are really handy for having more colors and taking up less space.
I have this split & use it up regularly....
It's awesome.
I'll do an artybrush style kitty.
It makes beautiful flowers & roses.
I also use it for a quick artybrush butterfly(when I don't want to paint on a younger child's eyelids).
I paint princess crowns & princess masks.
I use a large filbert brush & paint heart.
Here are 2 pics of fast face paint designs I've done w/ this splitcake.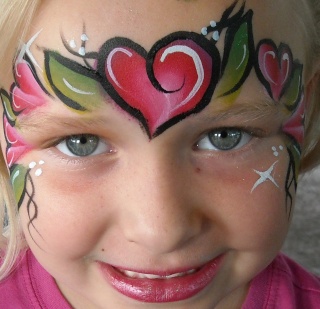 I have a pink/purple sparkle snaz split in my kit that I go through like CRAZY.... I use it for butterflies constantly.... both sponged and with my butterfly brush. I'll have to see if I have pictures, but it's just the perfect split to have and one of the only ones that I actually use as a split and not just to save space in my kit.
Ah, this is one with that split... it's just a quick eye design, but you can see how easily this goes to a butterfly...
Thanks for all the ideas!!!! I really appreciate them!
Angela


Similar topics
---
Permissions in this forum:
You
cannot
reply to topics in this forum