Hi everyone.....i've never posted on the forum but I have been coming in here regularly for a couple of months......my facepainting is really pretty blah which is why i've never posted ........but I do really enjoy it! I live in a small Island smack bang in the middle of the South Pacific ocean - TONGA

....anyway I thought i'd incorporate some of our traditional patterns (usually used in Tattoos) into some butterflys....feel free to let me know where I need improvements....also the black seems quite harsh too....did it as an after thought......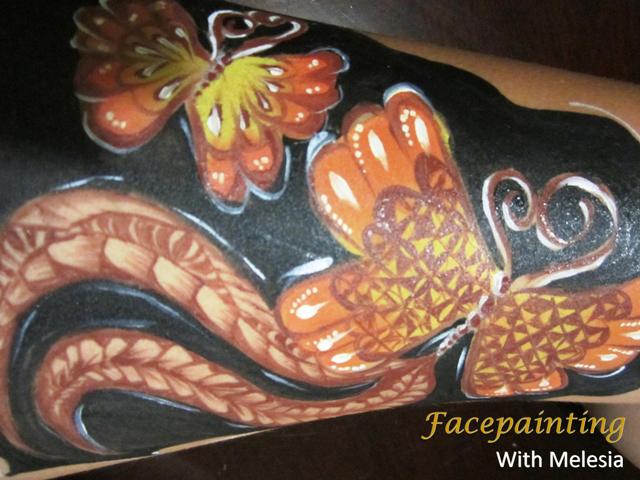 Oh my goodness....the whole purpose of me posting was to say thank you and I forgot to say thank you! So thank you EVERYONE for sharing your knowledge and posting your pics and allowing us beginners to learn from you.....hopefully one day (when I get a lot LOT better....I will be able to
'pay it forward' to future facepainters.....).....MALO AUPITO (Thank you very much!)
oh VERY pretty! Nicely done

(and welcome!!!

)
Welcome! I like your butterflys. Thet are truly unique and it's obvious you took a lot of care with the design.


martha




Number of posts

: 1951


Age

: 58


Location

: Searcy, AR


Registration date :

2011-05-22



Welcome! Please post more of your beautiful work. I love your use of traditional tattoo designs from your island... which I'm sure is paradise!. The black is not too harsh when considering the general feel of the native design. Are there others on Tonga who are doing face or body art with paints?

welcome to the forum and great job on your butterfllies

You are very creative! The butterfly designs are awesome, BTW you are really good at this!

Janb




Number of posts

: 398


Age

: 53


Location

: San Antonio, TX and MS


Registration date :

2011-09-28



Welcome... you have put a lot of detail into that design! Would love to see some more

THank you all so much for your kind words......it's the first time i've had a play with incorporating some traditional tongan patterns into something i've painted......I usually do the basic tiger, butterfly, spiderman etc....I sometimes paint at our local market.....Miss Ronnie....there are no other face/body painters that I know of in Tonga....it's pretty cool because most of the people/kids i've painted have nothing to go on so they just think my work is AMAZING lol.....i'm glad none of them have been on this forum to see what REAL facepainters can do

- I only started because my daughter's school needed someone to paint back in August and i've been hooked on it ever since - much to the dismay of my husband!

You have the market cornered, then... I have no idea how big Tonga is population-wise, but I hope that you can really get something going for yourself there! Keep going, girl!

... and that dragon mask avatar is wonderful!!! Great job!
Very pretty! I love when people take art from their culture & incorporate it into face & body painting designs! Hmmm... that would be a fun challenge...

---
Permissions in this forum:
You
cannot
reply to topics in this forum