I have just started balloon twisting about a month ago. I have been working on all different designs. This is one of the more simple. I do have to say, I have popped many tring to recreate. The twist of all the pedals is very hard for me at this point. I hope it will get easier as I practice more. I just loved the picture I took of it. So I thought I would share it, even though it is only a simple design.

Amy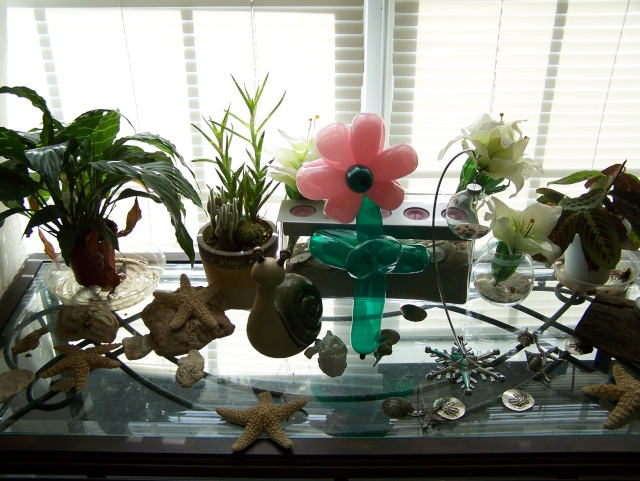 are you trying to subdivide the petals or twist them each individually? I always pop it if I try to subdivide... I have to do each petal individually. Sometimes I make them a little too big and only get 4 petals instead of 5 or 6 like I want, but at least they don't pop.
I am subdividing them. I have found that it is much easier if I completely fill the balloon and than slowly let out about have the air, still keeping it infalted to the tippy top, but smaller around. Than when I do the final twist it is less likely to pop. But even this is hard. But I love the final product.
Thanks Perry

Hi. I have only just started twisting too and popping these when i twisted too. But i found that when you bring them all together just before you twist them you need to ply the joint in your hand squeezing a few times until you can hold all the skinny bits in one hand and then when you twist them together you need to pull one side out slightly as you twist, a little like a pinch twist, if you get what i mean?

bee




Number of posts

: 110


Registration date :

2012-01-14



Also, don't inflate all the way, and then start at the full end and squeeze and stretch all the way to the not full end until it is full... Makes for a VERY Pliable BAlloon.




Similar topics
---
Permissions in this forum:
You
cannot
reply to topics in this forum